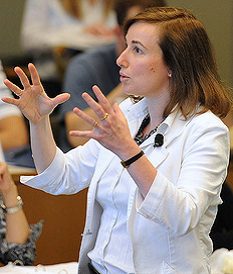 By: Carol Quinn
On the first day of Management 652, the very first course in Wharton's core MBA curriculum, more than 800 students face some of the world's top faculty in spacious, state-of-the-art Huntsman Hall. The students are about 40% women, 36% international, with interests in finance, entrepreneurship, nonprofits and more, and they've entered Wharton because they want to lead in a changing world.
Today, they're going to start learning how—in part by acting as senior management at a fictitious electric car start-up.
Through Management 652, Wharton is reshaping leadership education in new and exciting ways. The course helps students untangle the abstract concepts of "leadership" and "teamwork" by focusing on teachable skills, employing sophisticated immersive technology and leveraging the unparalleled intellectual firepower and creativity of the world's largest business school.
Following a thorough grounding in the latest leadership theory and research, students head into the lab and, guided by a computer-based simulation, work together in small assigned teams to run their companies. At the end of each day, these "management teams" head back to the classroom, where faculty introduce new concepts and encourage serious self-reflection. The lessons are directly applicable, as over the coming days each company must face unexpected crises and come to a series of consensus decisions.
Joseph Frank Bernstein Professor of Management Sigal Barsade and David Pottruck Associate Professor of Management Nancy Rothbard spent at least two years designing the course, together with the Graduate Leadership Program Director Jeff Klein and simulation partner Forio. More than 125 individuals across the School, from the Department of Management to the Graduate Leadership Program, and from Wharton Communications to Wharton Computing and Information Technology, help to deliver Management 652 each year.
"It is," says Barsade, "a meta-story of teamwork and leadership."
When first charged with revamping Wharton's core leadership course, Barsade and Rothbard looked for an "off-the-shelf" simulation. Nothing quite fit, so they proposed something entirely new: a simulation designed by Wharton faculty for Wharton students, seamlessly integrated with research-backed instruction and personalized skills development. Dean Thomas S. Robertson quickly jumped on board, recalls Rothbard. "The support and commitment across the School were incredible."
And the result? A learning experience absolutely unparalleled at any institution, anywhere. A targeted course delivered to more than 800 students simultaneously, and yet able to meet the unique needs of each. An invigorating introduction to the Wharton experience.
Some teams are models of harmony; others scramble to apply their new skills. Some companies triumph; others sink into the red. Then, at the very end…
"I wish I could tell you," says Barsade.
"Sworn to secrecy," says Klein.
"It's just so exciting," says Rothbard. "The looks on students' faces …"
It's a well-kept Wharton secret. But even more important are the lessons students take from the course—and the ways in which they continue to refine and develop their new skills.
"Five, ten, twenty years out, this will be something students remember as a 'wow,'" says Rothbard. "It challenges them, allows them to grow and reflect, to see how these abstract concepts really matter and to have fun doing it."
by