By: Chris Abreu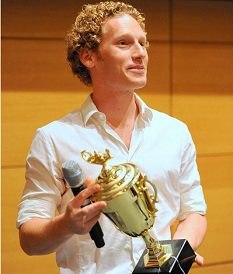 On September 22nd at Wharton, the time had come once again to determine whose "Academia would reign Supremia." The highly anticipated event "Iron Prof" made its return to Wharton where students experienced faculty research presented in a most unique way by six of the Wharton School's top professors.
"Iron Prof," inspired by the popular television series, "Iron Chef," pits professors against each other in a series of rapid-fire presentations. Each professor is given five minutes to present their research using only 20 slides that auto-advance every 15 seconds.
The event was founded by Leigh Hellrung WG'11 in 2010 and with the help of the Wharton Graduate Association directors of Academic Affairs, "Iron Prof" became an event created by students to experience what Wharton MBA faculty do outside the classroom. Participant and Andrew M. Heller Professor at the Wharton School Christian Terwiesch lauds how the "initiative really came out of the student body, which shows how really great and engaged our students are."
Professor Terwiesch was among six other professors competing for the title of "Iron Prof." He presented a unique presentation titled "Barefoot Running and What It Teaches Us about Creating New Business Opportunities, "where he appeared on stage wearing an Armani suit and Vibram FiveFingers® running shoes.
Professor Terwiesch's unconventional appearance helped him stress his point on how Wharton students "can innovate and how you can work as future entrepreneurs" by "not being perceived as being weird."
Claudia Massei WG'12 was particularly impressed by Professor Terwiesch's presentation. "I was inspired by the fact that if you want to innovate, that you should think about extremes."
Hosts Elizabeth Kiernan WG'12 and Sara Luchian WG'12 introduced each professor with humorous slides listing their likes, dislikes, and nicknames, such as "The Wild Boar" or "The Virus" to lighten the mood.
Professor of Medicine and Health Care Management Kevin Volpp, dubbed "Dr. Doom" by the hosts, gave a presentation on "Behavioral Economics and Changing Health Behaviors" to highlight how "unhealthy behaviors are one of the leading causes of premature mortalities in the United States."
Citing an example of a health incentive program conducted by GE, which offered monetary compensation to employees that committed to smoking cessation by offering its employees more money the longer they quit smoking, Dr. Volpp emphasized how businesses can help people make better decisions with their health.
Making his second appearance at "Iron Prof," Alex Edmans, the Assistant Professor of Finance, Dorinda and Mark Winkelman Distinguished Scholar, gave a spirited presentation titled "Socially Responsible Investing: Doing Well by Doing Good," focusing on two of the biggest questions in finance: "how to make money in the stock market" and "how to invest in a socially responsible manner."
Professor Edmans explained how these ideas "fundamentally conflict" because "either you choose a portfolio to maximize your returns or you choose one to achieve your social objectives such as employee welfare" since "any dollar a firm spends on healthcare benefits is a dollar that you can't spend to shareholders."
Also making a second appearance, Associate Professor of Management Adam Grant presented his research on how too much of a good thing can be bad. Professor Grant listed the two happiest groups in the world, members of the Fortune 100 richest Americans and the Pennsylvania Amish to show how even people with less material wealth can be satisfied with life. Grant engaged with students, asking one to name three good things about their life, and another to list 37 good things. The student that only had to list three things gauge rated his happiness level higher than the other student. Using good-natured ribbing, Grant compared his findings to the happiness factor of a fellow faculty presenter and showed him how to achieve happiness by simplicity.
Assistant Professor of Management Professor Matthew Bidwell was a student favorite with his presentation on "Promote or Hire: Does it Matter How Companies Source Their Talent?" His research focused on whether it was better for corporations to hire new employees or promote current ones based on work performance.
Professor Bidwell found that the new hires performed worse than the employees that were promoted. He stated that it took on average three years for new hires to catch up to the performance level to that of those that were promoted.
Jonathan Pearlstein WG'12 said that Professor Bidwell's presentation, "was very well done and concise," adding that he "learned a lot from it and gave me useful skills I will take with me out of business school."
While many students praised Professor Bidwell's presentation, it was James G. Campbell Assistant Professor of Marketing Jonah Berger who took the title. Professor Berger's presentation, "Can Where People Vote Affect How They Vote?" stated how much of an impact where people vote, such as a church or a school, can influence the issues or person they vote for as much as 2%. He reminded the audience of the 2000 Presidential election of George W. Bush and Al Gore to mark the importance of such a percentage.
Intertwining social and business events in his presentation, Berger began by using an example of how Mars chocolate candy bars saw an increase in sales after NASA landed the Pathfinder successfully on the planet Mars in 1997.
After explaining how "stimuli in the environment can change our minds" calling them "triggers," Professor Berger then engaged the audience saying "When I say peanut butter, everyone thinks of," with the audience replying "Jelly."
After all 457 votes were tallied, Professor Jonah Berger was crowned champion of "Iron Prof" by two votes. Last year's winner Professor Kevin Werbach was there to present the trophy to the new Iron Prof.
In response to implementing new ways for faculty and students to continue to engage one another in a non-formal setting, Professor Berger said, "anything that brings faculty research and students together is great for the school. There's a wealth of knowledge produced at Wharton, and the more that students can learn about it, the better."
As for where he is keeping the trophy he replied, "I was going to put it on a chain around my neck, but it's a bit heavy. So I'm keeping it on my desk."
Ibraheem Basir, a second year MBA student, became the director of "Iron Prof" after being inspired by last year's event. "This was one of the first events I attended as a first year student and I thoroughly enjoyed it. I got a chance to see the research the professors were working on and see them in a slightly different setting outside of the classroom."
As for future events, Basir says, "Elena Boyd and Samir Agarwal are tasked specifically with that job. So we are considering some type of spin-off of 'Iron Prof' in the spring."
With the overwhelmingly positive reception from the students, the next event cannot come soon enough.
While students had their personal favorite presentations, some because of the content, or the humor, or even seeing themselves on the slides, the MBA Pub was buzzing with excitement over the event.
First year MBA student Joyce Chan remarked that the event "reminded her why she came here." Word of mouth from upper classmates was successful in drawing new MBA students to the event. Erinn Smart, WG'13, was encouraged by her second year friends to mark this event on her calendar. Smart recounts how she was told that "this was the number one thing to go to."
Many suggestions arose for the next "Iron Prof" given by students including mimicking other popular reality television shows, such as "Survivor," "The Bachelor," and "The Real World." However, two of the most popular recommendations were to let the audience know who came in second and third place, and even award trophies for them.
By far the biggest request was to branch out "Iron Prof" to other schools at Penn. Claire Cao, WG'13 proposed, "There should be a line-up of the top five professors of each school given a neutral topic to present in front of students," similar to what "Iron Chef" does with their secret ingredient.
Time will tell if the other schools at Penn will be able to deal with the scholastic heat that Wharton has managed to succeed in with "Iron Prof" these past two years.
by