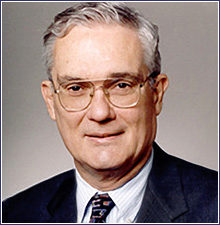 Professor William Kissick passed away on June 30, 2013.  Dr. Kissick was a professor in three separate health-related Penn Schools and taught for 32 years on campus beginning in 1968. He retired from Penn in 2001.
Prior to joining Penn, Dr. Kissick's acumen received national attention while serving with the federal government. There, he was instrumental in writing what became the 1965 law establishing Medicare. After his role in health care policy work, Dr. Kissick moved to Penn where he continued his distinguished career. He was granted appointments in both Penn's School of Medicine and The Wharton School, and was named to Leonard Davis Institute's (LDI) governing board. In 1994, Dr. Kissick published Medicine's Dilemmas where he  developed the notion of the "iron triangle" of healthcare, which became the intellectual forerunner of today's Triple Aim framework. Dr. Kissick remained a nationally renowned expert on health care policy for the rest of his life.
The Wharton School is grateful to Dr. Kissick for his contributions to the field of healthcare and to the Wharton community. The Kissick Scholarship Fund, established in 1988 by Dr. Kissick and the Wharton Health Care Management Alumni Association, offers financial assistance to  qualified first year Wharton Healthcare MBA students. In a second award program, the LDI William L. Kissick Health Policy Research Award annually honors Penn students who have completed meritorious research in the field of health services and policy.
Please join with us as we extend our deepest condolences to his family and friends, particularly his wife, Priscilla. There will be a private memorial service. In lieu of flowers, gifts may be made to the Kissick/Alumni Scholarship Fund. You can read more of Dr. Kissick's extensive achievements here.
by