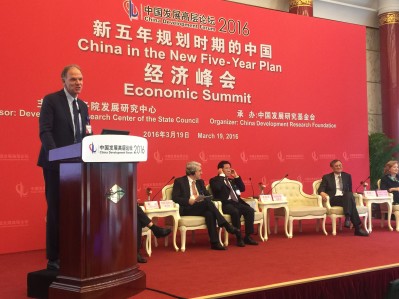 Wharton Dean Geoffrey Garrett joined more than 500 business and political leaders from around the globe at the Diaoyutai State Guesthouse in Beijing for the annual China Development Forum on March 19 to 21.
Hosted by China's State Council Development Research Center, the invitation-only forum brings together the country's top policymakers and scholars to encourage policy exchange and international collaborations between China and the world.
Dean Garrett was one of five key opinion leaders who participated in a panel discussion on Higher Education and Fostering Innovative Talents.
"I'm struck by the fact that the two things that are changing the world are also changing the world of higher education and the world of business schools — and those are technology and globalization," he said. "We're a leader and an experimenter and an innovator in online education, which I think is very important in lots of ways, and we're really pushing global footprints."
Dean Garrett talked about Wharton's successful model for fostering innovation and shared examples of key innovators who belong to Wharton's massive alumni network, including:
• Google CEO Sundar Pichai, WG'02
• Alphabet CFO Ruth Porat, WG'87
• LinkedIn CEO Jeff Weiner, W'92
• Gang Yu, GRW'90, co-founder and chairman emeritus of Chinese e-commerce site Yihaodian
• Kunal Bahl, W'07, co-founder and CEO of Snapdeal, India's largest online marketplace
The dean also emphasized the importance of balancing the traditional approach of learning by studying with learning by doing and talked about lifelong learning, innovation on campus, and improved access and affordability with online education.
"I don't think online and on campus are inconsistent — I actually think we can be an online leader and by being an online leader, over time it's going to improve what we do on campus and I think that's a great combination," he said.
Former Chinese Premier Zhu Rongji came up with the idea for the first annual China Development Forum in 2000 under the principle of "engaging with the world for the common prosperity." In less than two decades, the forum has quickly developed into a high-level
platform for candid discussion between senior Chinese policymakers and an impressive roster of academics, foreign officials, and business leaders from across the globe.
This year, they focused on "China in the New Five-Year Plan," which was unveiled the week before at the National People's Congress and the Chinese People's Political Consultative Conference. Speakers shared their insights on various issues related to China's economy, including structural reform, accelerating new urbanization, shared economic development, higher education and innovation, public-private partnerships, building resilience in the financial market, taking action in climate change, and think-tanks in modern governance.
Dean Garrett, who sat in the first row for the conversation between Alibaba founder Jack Ma and Facebook founder Mark Zuckerberg, shared his thoughts on the forum in a recent LinkedIn post.
"In a conference focused largely on China's next five-year plan, … it was these data-driven entrepreneurs who stole the show because innovation and analytics hold the key to a better future for us all," he said.
China Development Forum is the one of three big international events Dear Garrett attended representing the Wharton School so far in 2016 —in addition to the World Government Summit in Dubai and the Wharton Global Forum in Kuala Lumpur.
"'Innovation and Entrepreneurship' has been at the top of every agenda because countries the world over are desperately seeking productivity-enhancing innovation, and because startups seem better at generating it than big established organizations," he said.
by