PHILADELPHIA, APRIL 25, 2023–The University of Pennsylvania's Venture Lab is pleased to announce the winner of the seventh annual Startup Challenge: Swinergy Inc., founded by Wyatt Frasier (WG'24) and Eugene Alvey. Swinergy is pioneering a solution for the world's agricultural waste problem that turns livestock manure into renewable natural gas. For the second year in a row, the Startup Challenge was held at Tangen Hall, the university's hub for student entrepreneurship and innovation.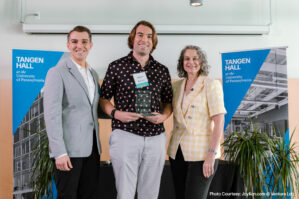 Swinergy was borne out of Alvey's experience as a multi-generational farmer in Lincoln, Nebraska. He had seen firsthand how current solutions to create gas from manure are not fast enough or efficient enough to scale. Alvey and Frasier, who met as classmates at the U.S. Military Academy studying environmental engineering, came together to bring a scalable solution to market.
"With 10% of methane emissions coming from agricultural waste and over 500,000 Americans drinking water well above federal nitrate limits, we knew that the world needed a better way to manage agricultural waste," said Frasier.
Using a proprietary blend of engineering and chemistry, their team designed a solution that can produce gas up to five times faster with 50% more gas extraction than current offerings. This enables scale that can take this process beyond the only 4% of farms currently using any sort of manure to gas solution.
Swinergy profit shares with farmers and sells their gas directly to domestic pipelines, reducing the impact to global climate and local water supplies. They aim to have their first plant on-line in Southern Minnesota by 2024, with more swine plants to follow in the Midwest and North Carolina.
Alvey and Fraiser say that the award from Penn–along with their recent pre-seed raise–demonstrates that others share the vision that drove them to found Swinergy. "It's time that we invest in the physical tech that moves us into a new agricultural and energy future," said Frasier. And as a 100% Veteran led team, they say they're not afraid to roll up their sleeves and do a dirty job.
The 2023 Startup Challenge winners are:
Perlman Grand Prize: $50,000 + $15,000 in legal, accounting and strategy services to

Swinergy

Runner-up: $15,000 + $15,000 in legal, accounting, and strategy services to

Zmiles Same Day Aligners

Ashton Family Award For Female Founders: $15,000 to

Spring

Linn Family Innovation Award: $10,000 + $15,000 in legal, accounting, and strategy services to

PopEye

Launch Prize: $10,000 + $15,000 in legal, accounting, and strategy services to

ProBook

Frederick H. Gloeckner Award for Best Undergraduate Team: $10,000 to

Zmiles Same Day Aligners

Robert S. Blank New Venture Collaboration Award: $10,000 to

PopEye

Jacobson Social Impact Prize: $10,000 to

Equimeter

Venture Lab Social Entrepreneurship Award: $10,000 to

Swinergy
Wharton AI and Analytics for Business Awards: $10,000 to PopEye and Groov

Thakker Business Analytics Award: $10,000 to

EmployAI

Venture Lab Audience Choice Award: $10,000 to

PopEye

Summer Venture Award: $10k each to 

ProBook 
Swinergy
Spring
Odyssey Notebooks
Jochi* (funded by the Thakker Family)
Nolly
Orble
Unison* (in honor of S.J. Dilenschneider, W'28)
Previous winners of the Startup Challenge and Showcase include ToxiSense, which aims to improve the endotoxin testing required for drinking water and biopharma products, and DeToXyFi, which commercializes low-cost, natural water filtration devices.
Startup Challenge Finals judges were:
Startup Challenge & Showcase Sponsors:
Note on abbreviations:
C-Penn College of Arts & Sciences alum (bachelor's)

W-Wharton undergraduate student/alum

WG-Wharton MBA student/alum
About Venture Lab
Venture Lab is a resource for any Penn student who is interested in entrepreneurship and innovation. We maximize the ability of our students and alumni to address important challenges through entrepreneurship and entrepreneurial thinking. Ignited by great ideas, our faculty, students, and alumni turn innovative concepts into scalable and sustainable businesses and bring entrepreneurial development to existing companies eager for change. In a world hungry for productive innovation, our disciplined approach challenges concepts, focuses ideas, and provides the know-how to turn fledgling businesses into strong, enduring organizations.
About the Wharton School
Founded in 1881 as the world's first collegiate business school, the Wharton School of the University of Pennsylvania is shaping the future of business by incubating ideas, driving insights, and creating leaders who change the world. With a faculty of more than 235 renowned professors, Wharton has 5,000 undergraduate, MBA, executive MBA, and doctoral students. Each year 13,000 professionals from around the world advance their careers through Wharton Executive Education's individual, company-customized, and online programs. More than 104,000 Wharton alumni form a powerful global network of leaders who transform business every day. For more information, visit www.wharton.upenn.edu.
###