Incoming MBA Class First-Ever in School History with Equal Gender Representation
PHILADELPHIA, July 28, 2021—The Wharton School of the University of Pennsylvania today announced that, for the first time in its 140-year history, women will comprise more than 50% of the incoming first year class of MBA students. At nearly 52%, the percentage of women in the Wharton MBA Class of 2023 represents a 10% increase in female students over last year's first year students. These achievements are the result of a years-long effort to promote Diversity, Equity and Inclusion (DEI) throughout Wharton which today is led by Deputy Dean Nancy Rothbard and Dean Erika James, who is the first woman ever appointed to lead the School.
"This landmark achievement demonstrates Wharton's commitment to providing a diverse and representative community for our students," said Dean James. "As a female leader, I understand firsthand the significant impact that experiencing meaningful gender representation can have on women as they chart their careers. I also note the sobering reality that, even in 2021, women still command a small percentage of leadership positions in the corporate arena. If industry truly desires its organizations—and the leadership within them—to reflect the world around us, we must improve the diversity of the pipeline of future business leaders. In short, this crucial work must start here."
Wharton builds and promotes gender representation in its MBA program through numerous initiatives, including a partnership with the Forté Foundation, fellowships for outstanding women students, on-campus visit days for women and conferences and networking opportunities via student clubs such as Wharton Women in Business. Students of any gender can also take courses like "Leading Diversity in Organizations" and engage with faculty researching DEI topics. 
"As we do every year, we made a conscious effort to ensure female applicants felt wanted and welcomed at Wharton, and showed them the many resources and communities in our program where they can connect, collaborate and feel supported," said Maryellen Reilly, Deputy Vice Dean of the Wharton MBA Program. "Diversity, equity and inclusion are central to our efforts, and while we are extremely proud to welcome this record number of women to our MBA community this year, we do hope that equitable gender representation soon becomes the norm among business schools, rather than the exception."
In addition to attaining more than 50% women, two other Wharton MBA records were broken: the Class of 2023's 733 average GMAT is the highest ever for an incoming class and LGBTQ+ representation reached 7%, also an all-time high. The class totals 897 students including 36% international students and 35% Black, Indigenous and People of Color (BIPOC). View the complete Wharton MBA Class of 2023 profile here: https://mba.wharton.upenn.edu/class-profile/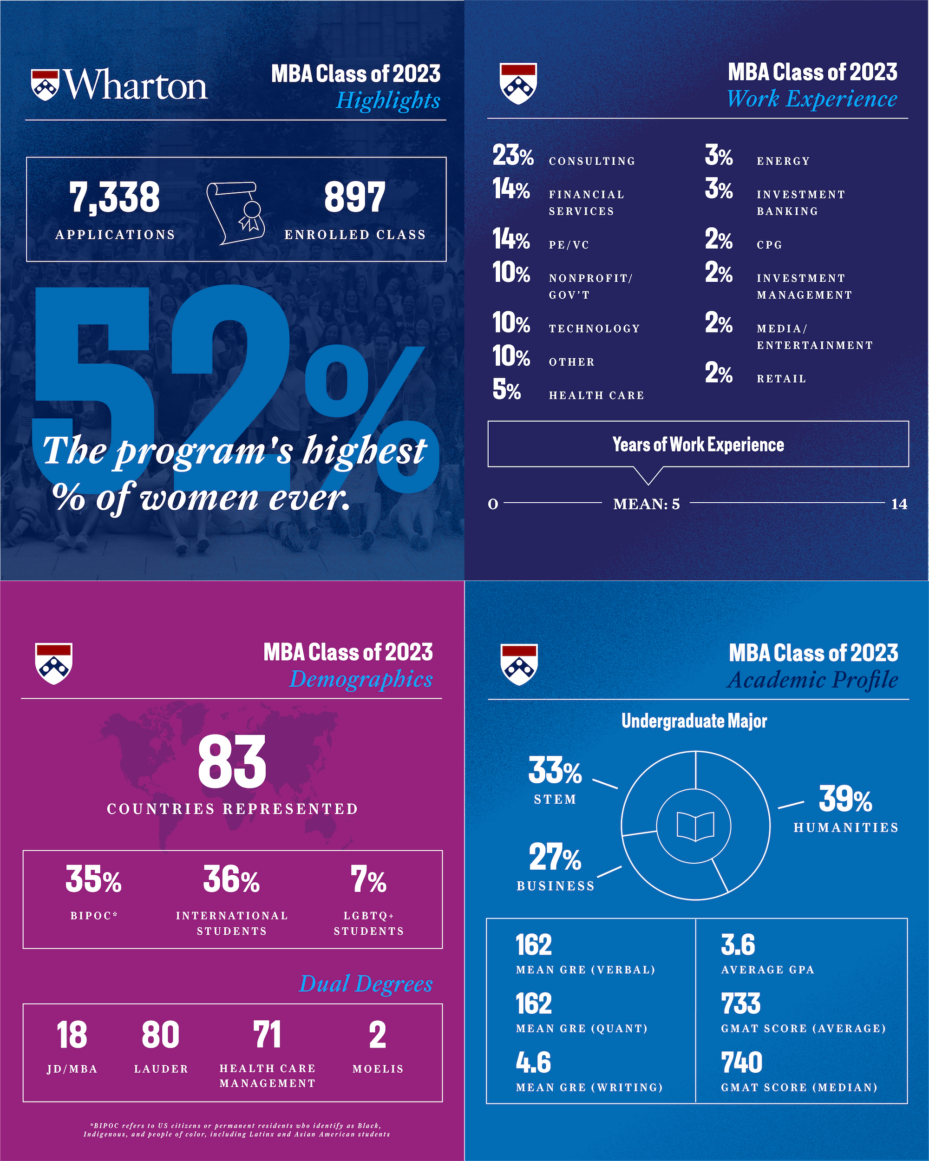 About the Wharton School
Founded in 1881 as the world's first collegiate business school, the Wharton School of the University of Pennsylvania is shaping the future of business by incubating ideas, driving insights, and creating leaders who change the world. With a faculty of more than 235 renowned professors, Wharton has 5,000 undergraduate, MBA, executive MBA, and doctoral students. Each year 13,000 professionals from around the world advance their careers through Wharton Executive Education's individual, company-customized, and online programs. More than 100,000 Wharton alumni form a powerful global network of leaders who transform business every day. For more information, visit www.wharton.upenn.edu.
###