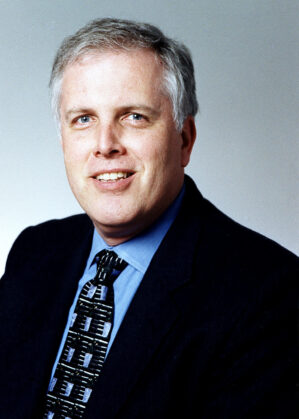 It is with great sadness that the Wharton School announces the passing of faculty member David Frederick Babbel, who died May 20, 2021, from complications of leukemia. He was 72.
Babbel was a professor emeritus of business economics and public policy and a professor of finance at Wharton, where he spent more than 25 years of a storied career that including consulting with the World Bank, lending his expertise to federal agencies, and being featured in a documentary film about retirement income.
"David was a towering intellect at Wharton who contributed so much to our community as both a teacher and a researcher," Wharton Dean Erika James said. "We were proud to have him as a colleague and a friend. He is greatly missed."
Babbel was born in 1949 in Salt Lake City, Utah, and spent his youth in Arlington, Virginia. From 1968 to 1970, he served a mission in Brazil for the Church of Latter-Day Saints. He returned to the U.S. and graduated from Brigham Young University with a bachelor's in economics and philosophy. He later earned his MBA and PhD in finance from the University of Florida, as well as PhD certificates in Latin American studies and tropical agriculture. From 1976 to 1977, Babbel studied inflation and indexation in Brazil on a Fulbright Scholarship.
In 1978, Babbel joined the faculty of the Haas School of the University of California at Berkeley as an assistant professor of finance. In 1985, he came to Wharton as an associate professor of finance and risk management and an associate professor of insurance. He became a full professor of insurance in 1993, and four years later became a professor of risk management and finance. During 2001 and 2002, Babbel was also a group speaker in Wharton's executive education department.
Babbel conducted influential research while at Wharton, publishing over 130 peer-reviewed papers. In 1997, he spoke before Congress in opposition of a bill that would result in mutual insurance policyholders losing their ownership stake as company executives got rich; he also spoke and presented his research before district courts all over the country. His research delved into the fields of finance, investments, risk management, insurance, and international finance.
"David Babbel was a creative, warm, and genuinely good individual and colleague whom we deeply miss," said Olivia S. Mitchell, a Wharton professor of business economics and public policy who is also executive director of the school's Pension Research Council. She recalled his long list of accomplishments, including helping the World Bank develop approaches to strengthen financial markets.
"His work as an expert witness for the U.S. Treasury Department, the Federal Reserve System, the Pension Benefit Guaranty Corporation, the U.S. Office of Management and Budget, and the Federal Trade Commission greatly enhanced those institutions' understanding of global risk management," she said.
Mitchell and Babbel were featured in a 2021 documentary titled "The Baby Boomer Dilemma," which examines the challenges of retirement income in America. The film is the first of its kind to receive a rating by the Motion Picture Association.
"You give the burden of planning retirement, placed it upon the shoulders of the person who knows the least. I think it was a disaster," Babbel said in the film trailer.
In 2002, Babbel retired from Penn and took emeritus status. That same year, he accepted a missionary position in Brazil and spent the next three years overseeing more than 500 missionaries there. He later wrote about his experiences in his book, "Mine Angels Round About You: Miraculous Accounts of the Lord's Hand in the Mission Field."
When Babbel returned to the U.S. in 2006, he joined Charles River Associates as a senior advisor to its finance group and insurance economics practice. He briefly served as a vice president of the pension and insurance department at Goldman Sachs from 1987 to 1988. Babbel received many awards and honors during his career, including Wharton's William G. Whitney Award for Distinguished Teaching in 2003.
Babbel was an avid Phillies fan and was immensely proud of his children and grandchildren. He is survived by his wife, Mary Jane; their four children, Tara Haglund (Evan), Elise Hahl (Oliver), Karisa McAllister (John), and Tyson; and 13 grandchildren.
As many in our community grieve, we want to remind everyone that they can reach the Employee Assistance Program 24 hours a day, seven days a week, by calling 1-866-799-2329 or by scheduling an online appointment using the link in Penn Cobalt.