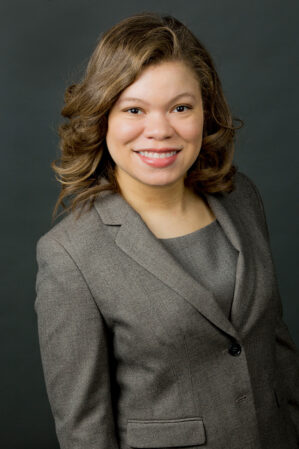 It is with great sadness that the Wharton School announces the passing of faculty member Gwendolyn Gordon. Gordon, 41, joined the Department of Legal Studies and Business Ethics as an assistant professor in 2013 and was also affiliated with the Department of Anthropology at Penn. She earned her BA in psychology from Cornell University and JD from Harvard Law School, where her research focused on social and economic rights for indigenous groups. In 2014, she received her PhD in anthropology from Princeton University.
"Gwen was a dedicated scholar, but moreover, a tremendous person," reflected Erika James, dean of the Wharton School. "She brought passion and purpose to her research, and extended that commitment into the classroom to impact students. Our community was enhanced by her presence, and she will be deeply missed."
Prior to launching her academic career, Gordon worked as a corporate attorney in the London and New York offices of Shearman and Sterling, LLP. She also interned for the United Nations Tribunal For Rwanda, working on a team responsible for prosecuting military leaders on charges of genocide and crimes against humanity. During law school, she served as a research assistant for renowned professor and civil rights theorist Lani Guinier.
Gordon cared deeply about social justice issues, dedicating her life's work to creating a more equitable world. Her passions were reflected in her research topics, which most recently focused on corporate social responsibility. Her doctoral dissertation, "Bones, Breath, Body: The Life of an Indigenously Owned New Zealand Corporation," examined the complex legal relationship of a Māori corporation responsible for the stewardship of indigenous lands and profits. Gordon also traveled to South Africa to conduct field research on the country's Broad-based Black Economic Empowerment legislation designed to advance the participation of Black citizens in the economy.
"She was always thinking about what could be done to act on injustices and wrongdoings in our world," recalled her friend and colleague Rachel Arnett, an assistant professor of management at Wharton. "She refused to stand for people being treated unfairly, and she made a point to stand up for those who could not stand up for themselves," Arnett said.
Gordon wanted her students to see the world through the same lens. As the undergraduate advisor for the social impact concentration in her department, she pushed students to think about the impact of their work. Diana Robertson, vice dean of the Wharton Undergraduate Division, said Gordon shared in the accomplishments of her students and celebrated their successes.
Robertson recalled how Gordon proudly sent her a video of a thesis presentation from a senior in her Law and Social Values course. The thesis benefitted from Gordon encouraging her students to approach old ideas from new, different angles. Its originality "was a testament to Gwen's creativity and breadth of knowledge. She was the perfect faculty supervisor for this project."
Robertson, who is also a professor in the Department of Legal Studies and Business Ethics, grew close with Gordon over the years. The two lived near each other and often walked home from the office together. During those walks, Robertson recalled, they would talk about "anything and everything," from research and teaching to the books they were reading for enjoyment. Robertson said Gordon often spoke lovingly of her family, especially her mother, brothers, and godchildren. Robertson remembered Gordon as thoughtful of others and generous in her praise.
"Gwen was so much more than a colleague. We were friends," she said. "I supported her, and she supported me. I will miss her deeply."
Nina Strohminger, also a business ethics and legal studies professor, described her friend as "a genius."
"There is simply no other way to put this," she said. "Her knowledge of the law was profound. She was brimming with new and highly original ideas. She possessed the rare talent of being able to draw out the virtues of nearly any project she came across, no matter how half-baked."
Strohminger said Gordon was a professor with the heart of a poet; she was courageous, sensitive, imaginative, and a dreamer. "She took great joy in the beauty of language, the beauty of nature, the beauty of ideas."
Arnett also remembered her friend as intensely curious — a knowledgeable and well-read woman with a great sense of humor who loved to read and possessed an "amazing" mastery of trivia. She believes the best way to honor Gordon's memory is to continue advocating for disenfranchised people and working toward a better world.
"The loss of her friendship is tough, but it is secondary to the loss of the work she wanted to do and the impact I know she was going to have on the world with her research," Arnett said.
Wharton Deputy Dean Nancy Rothbard echoed Arnett's sentiment, saying Gordon was a gifted scholar "who will continue to shine through the research and insights she left behind." Rothbard added, "Fueled by her deep knowledge of indigenous peoples, her recent exploration of the fascinating concept of environmental personhood showed her true passion for inclusion."
Wharton will host a virtual gathering for members of the Penn community to reflect on Gordon's life on Friday, January 14 at noon. Click here to read her online obituary.
As many in our community grieve, we want to remind everyone that they can reach the Employee Assistance Program 24 hours a day, seven days a week, by calling 1-866-799-2329 or by scheduling an online appointment using the link in Penn Cobalt.