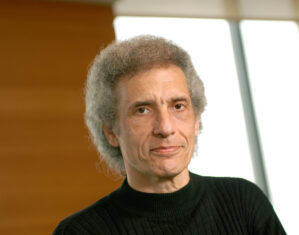 The Wharton School is deeply saddened to announce the passing of Accounting Professor Nicholas J. Gonedes, who died January 21, 2022, after a battle with cancer. He was 75.
Gonedes was proud to be one of the longest-serving faculty members at the Wharton School, having taught accounting and finance to undergraduate and graduate students for more than 40 years. He joined Wharton in 1979 from the University of Chicago and was instrumental in the early growth of economics- and statistics-based research in accounting. Gonedes was passionate about teaching and loved sharing knowledge with his students and challenging them. His family said his passion was evident in his determination to remain in the classroom years after he discovered that his medical condition was terminal.
"We were tremendously fortunate that Nick chose Wharton as the place to call home for so many decades," said Wharton School Dean Erika James. "His dedication to his students was unmatched. He wanted each and every one of them to succeed."
Deputy Dean Nancy Rothbard remembered Gonedes' strong presence. He was a fixture on campus and in Steinberg-Dietrich Hall. "Nothing, not even his illness, stopped him from giving everything he had to the classroom and the research seminar room."
Gonedes was raised in the Flatbush Avenue neighborhood of Brooklyn, New York. His interest in accounting began when one of his high school teachers recognized his talent and relied on him to balance the records for the school's audio/visual club. That teacher encouraged Gonedes to pursue accounting and guided him toward the University of Pennsylvania in the 1960s.
He earned his BS in economics from Wharton in 1967 and his PhD in accounting and finance from the University of Texas in 1969. He taught accounting at the University of Chicago for 10 years, become a full professor there before joining Wharton.
"Nick was one of a kind," said Brian Bushee, Wharton accounting professor and senior vice dean of teaching and learning for the department. He recalled how Gonedes strongly advocated for in-person teaching during fall semester 2020, when the university moved to virtual classes as COVID-19 cases were rising and no vaccines were available. "I think it says a lot about his character that he was willing to risk getting COVID, while in the highest-risk health group, so that his students could have a better class experience," Bushee said.
Music was another passion for Gonedes, and he often used his love of rock'n'roll to connect with students. He hung Rolling Stones posters on his office wall to spark conversation and founded Up on Stage, an open-mic night for the campus community. But it was his band Rail 3 — which he named after the electrified third rail of New York's subway lines — that became the biggest hit with students. Gonedes played lead guitar with a rotating cast of students and friends playing other instruments and singing. Formed in the mid-1990s, Rail 3 performed for years at local venues and Penn's Spring Fling.
Henry Friedman, an accounting professor at the University of California Los Angeles' Anderson School of Management, played drums in Rail 3 while attending Wharton and recalled practice sessions in the basement of Gonedes' West Philadelphia townhouse. They played covers from bands like the Stones and Santana, with plenty of solos thrown in.
Friedman remembered Gonedes as a man of many talents and interests. The two also played a weekly game of squash and once visited a gun range to share another one of Gonedes' hobbies — shooting. Although Friedman never took his class, Gonedes served on his dissertation committee.
"He was very kind [and] wanted people around him to succeed. He was good at bringing people together and helping them," Friedman said. "He was also quite concerned about whether ideas and insights were rigorous."
Bushee agreed, saying that although Gonedes stopped conducting research by the mid-1980s, he was a leader in transforming accounting research "from a normative, arm-chair reasoning field into a rigorous economics-based discipline" and always asked questions when others presented their work.
In addition to a keen interest in politics and civil liberties, Gonedes also loved to cook. He learned to make traditional Greek dishes from his mother, Dorothy Patente, whom he spoke to by phone many times a day before her death. Gonedes' family described their close banter as "rehearsed comedy."
"Nick was a man who loved deeply, both the people in his life and the passions he chose, ranging from rock music, to antiques, to shooting," the family said in a statement. "When he was interested in learning more about something, he delved in. He found great joy in discovering how a clock or record player that was created 100 years ago worked and enjoyed restoring well-crafted pieces to their original beauty. He had so much optimism, courage, and strength, and it was a privilege to be part of his world."
Gonedes was preceded in death by his parents, Despina (Dorothy) Patente and Thomas Gonedes Sr. He is survived by his brother, Thomas Gonedes; nieces Tara (Nikos) Gonedes and Georgia Gonedes; nephew Andrew Gonedes (Jaime); and grand-nieces and nephews George Kalaitzidaki, Katerina (John) Kalaitzidaki, Alexandra Pirovalaki, Samuel Gonedes, and Zachary Gonedes.
As many in our community grieve, we want to remind everyone that they can reach the Employee Assistance Program 24 hours a day, seven days a week, by calling 1-866-799-2329 or by scheduling an online appointment using the link in Penn Cobalt.