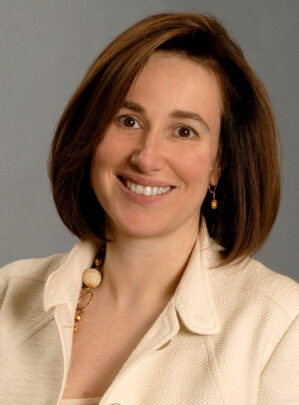 It is with great sadness that the Wharton School announces the passing of management professor Sigal G. Barsade, who died February 7, 2022, after a hard-fought battle with glioblastoma. She was 56.
Barsade was an award-winning teacher and scholar whose research focused on organizational behavior and culture, unconscious bias, leadership, and organizational change. But it was her preeminent work on emotions in organizations that vaulted her scholarship and made her a sought-after expert with global corporations, nonprofit organizations, and the news media.
Barsade pioneered research on what is known as the affective revolution, which is the study of how emotions shape workplace culture and influence the performance of both individual employees and teams. Her numerous papers delved into the full range of emotions at work, including loneliness, isolation, fear, compassion, happiness, and contempt.
Wharton Deputy Dean Nancy Rothbard said Barsade's work was revolutionary in that it helped businesses to acknowledge the role that emotions play in the office and to learn to harness their power for good.
"When you think about business, the kneejerk reaction is to say that emotions don't belong in business. But her motivation to study this topic involved educating people about why emotions absolutely are a part of business, and the only way to succeed is to recognize and understand that they are affecting you," she said.
Barsade earned her bachelor's degree in psychology from the University of California-Los Angeles and her doctorate in organizational behavior from the University of California-Berkeley's Haas School of Management. She taught at Yale University for a decade before joining Wharton in 2003. She was published in top academic journals, interviewed by major media outlets including The Wall Street Journal and The New York Times, and served as a consultant to a spectrum of companies including Coca-Cola, GlaxoSmithKline, Google, Comcast, and the NFL and NBA.
Wharton Dean Erika James said Barsade was a careful and consummate scholar with an unparalleled legacy.
"Sigal's contributions to academia and the business world cannot be overstated. She encouraged business leaders to think differently and widen their beliefs about what matters in the workplace," James said. "She touched so many lives during her nearly two decades at Wharton, and she is dearly missed."
Beyond her academic prowess, Barsade was a dedicated professor with a reputation for caring deeply about her students. She was highly engaged in developing Wharton's curricula, including the core Management 610 class with Rothbard, and was a key faculty member in Wharton Executive Education.
"She was a master teacher," said Rothbard, who recalled how Barsade employed her knowledge of emotional intelligence in the classroom. She paid attention to the facial expressions, vocal inflections, and reactions of her students to determine whether she needed to change her teaching approach to reach her students.
"Her ability to read the room stemmed from her use of what she studied in terms of emotional intelligence, and that helped her to be a better teacher," Rothbard said. "She had incredibly high standards for scholarship, for education, for everything."
During her tenure, Barsade taught thousands of undergraduates, graduates, PhD, and executive education students. Constantinos Coutifaris was just one of them. A doctoral candidate in organizational behavior who will graduate in May 2022, Coutifaris said Barsade was a consistent source of intellectual, social, and moral support. She was receptive to his ideas, generous with her time, encouraged him to be bold in his research, and when she realized he was a sleep-deprived father of toddlers, she helped him devise a plan to balance the demands of parenthood with his studies and research.
"She continued to put her mentees above herself," he said. "Even when she was battling with brain cancer, she kept insisting we talk about how she could be helpful to me during our calls when all I wanted to do was be helpful to her."
Coutifaris first met Barsade when he was an MBA student. His faculty advisor at the time, Wharton Management Professor Adam Grant, recommended he seek out her advice on a study he was conducting about how organizational cultures intersect during company mergers. That conversation led to a long-standing collaboration with Barsade that inspired him to return to Wharton for his PhD. Barsade co-chaired his dissertation committee.
"Meeting Sigal in 2012 changed the course of my life," Coutifaris said.
Barsade's colleagues also paid tribute to her caring and compassionate nature, describing her as a true friend as well as a devoted wife and mother. Grant said she gave him the confidence to teach emotions to skeptics and the courage to speak out against toxic cultures. He remembered the countless hours she spent helping colleagues and students, even inviting a student to stay at her house after a dorm fire.
"There was no ask too big and no detail too small for her," he wrote in a social media tribute to Barsade.
Management Professor Samir Nurmohamed recalled how Barsade boosted his confidence at a low point, after he received two rejections on papers on the same day. She was his "work mom," delivering snacks when she thought he hadn't eaten before an important event at the school and asking about his son as she glowingly spoke of her own three children.
"I will remember her as an ambassador and defender of our field and its roots," Nurmohamed wrote on social media. "Her life was too short, but her impact will outlast all of us."
For Rothbard, the loss of Barsade is especially hard. In addition to being close colleagues, the women were best friends.
"She was an intellectual giant with a heart of gold. That is such a rare combination," Rothbard said. "She was a true partner, a true friend, and she is an irreplaceable human being. I admired her and I loved her."
Barsade was born in Israel to Yaakov and Nili Goland, who moved the family to Los Angeles when she was 3 years old. Barsade held dual citizenship in both countries. She is survived by her husband, Jonathan Barsade; her daughters, Sivahn and Maayan; her son, Itai; her brother, Yaron Goland; and her parents.
As many in our community grieve, we want to remind everyone that they can reach the Employee Assistance Program 24 hours a day, seven days a week, by calling 1-866-799-2329 or by scheduling an online appointment using the link in Penn Cobalt.