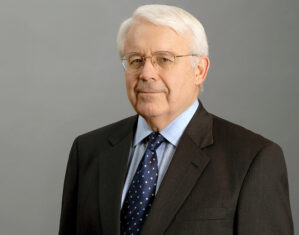 The Wharton School is sad to announce the passing of Lawrence G. Hrebiniak, emeritus associate professor of management, who died suddenly at home on January 18, 2022. He was 78.
Hrebiniak was a longtime faculty member who joined the department in 1976 and was tenured in 1980. He was an expert in management strategy and instrumental in developing courses on the subject for the MBA and Executive Education programs at Wharton. He earned numerous awards for teaching excellence, including one in 2008 for his Competitive Strategy course.
Hrebiniak was also a prolific author who published several books during his career, most notably Implementing Strategy with co-author William F. Joyce, which was released in 1984, and Making Strategy Work: Leading Effective Execution and Change, which was first released in 2005 with a second edition in 2013.
"Larry deeply believed in the importance of strategy for business success, and he wanted to make sure that his students understood that, too. That's why he put so much heart and soul into his work," Wharton Dean Erika James said. "He left an indelible mark on this school, and we honor his memory."
Wharton Management Professor Nicolaj Sigglekow described Hrebiniak as a masterful teacher who engaged his students and clearly communicated his ideas. But more than that, Hrebiniak was warm and kind.
"He was very kind with everyone, especially new faculty and staff," Sigglekow said. "He certainly made me feel very welcome when I started out as a new assistant professor. He gave me a number of very valuable tips for teaching in the MBA classroom and how to structure my class. He was foremost a team player, where the 'team' was the management department. He was always engaged and ever-present in his office and at every departmental event, be it academic or social."
Wharton Management Professor Harbir Singh also remembered Hrebiniak as a wonderful colleague who went the extra mile to be helpful to all, particularly to new faculty members who were early in their careers.
"He was always upbeat, energetic, and positive," he said. "He was very passionate about his work on strategy implementation and on leadership. Based on a lot of exposure to managerial practice, his ideas were very well-received by students in all his courses."
Over the years, Hrebiniak became close with staff members in the management department. He took an interest in their lives and loved to chat with them and share a laugh. Retired staffer Robin Woods said many in the department considered him an extended family member. He stayed in touch, even after retirement.
Associate Director Roxanne Gilmer remembered how Hrebiniak refused to have an elaborate party for his retirement, insisting instead on a simple luncheon with "my buddies, the staff."
"It's my belief that at the conclusion of our lives, what we are most remembered for is the way we made people feel in our presence, and I always walked away from Larry with a smile. He was a joy to be around," Gilmer said.
Cecilia Mensah-Atoo, website administrator/coordinator of office operations, often helped Hrebiniak with typing and editing for his books, and he made sure to include her name in the acknowledgment credits.
"That was something he didn't need to do, but he always wanted me to know how much he appreciated the help. That's the kind of person he was, and I am very grateful to have known and worked with a kind and caring person like him."
Hrebiniak's expertise and affable nature made him a favorite with business media. He was often quoted in news and magazine articles and was a commentator for "The Wharton Report," a nationally syndicated show on the Financial News Network.
Hrebiniak was born in Jersey City, New Jersey. He earned a bachelor's degree in economics from Cornell University in 1964. He went on to earn an MBA in strategic management and a PhD in management, both from the State University of New York at Buffalo, and he taught at Pennsylvania State University before joining the faculty at Wharton.
Prior to his academic career, Hrebiniak worked for several years in various positions at Ford Motor Company, including as a district field manager. He served as a consultant throughout his career, working with companies such as AT&T, Isuzu, DuPont, Microsoft, Bristol Meyers-Squibb, and Chase Manhattan Bank.
Hrebiniak was an avid sportsman who loved the outdoors, fly fishing, and golf. He was drafted out of high school to play professional baseball for the Cincinnati Reds, but he chose college instead. He played football and baseball while at SUNY-Buffalo and Cornell.
"Larry treated each day like there is no tomorrow, always reminding himself how precious and fragile life was," Mensah-Atoo said. "Larry was an amazing person."
Hrebiniak is survived by his son, Justin Hrebiniak, a brother, Greg Hrebiniak, and two nephews. He was preceded in death by his wife, Donna Hrebiniak, who passed away in 1994 and to whom "Making Strategy Work" is dedicated.
As many in our community grieve, we want to remind everyone that they can reach the Employee Assistance Program 24 hours a day, seven days a week, by calling 1-866-799-2329 or by scheduling an online appointment using the link in Penn Cobalt.