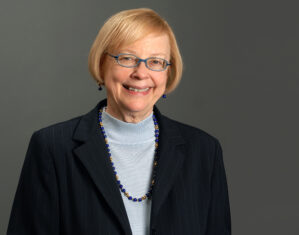 It is with great sadness that the Wharton School announces the passing of Elizabeth E. Bailey, emeritus professor of business economics and public policy, who died August 19, 2022, at her home in Reston, Virginia. She was 83.
Bailey was a trailblazing economist with a long career marked by historical achievements. She was the first woman to earn a PhD in economics from Princeton University, the first woman to be appointed as a department head at Bell Laboratories after rising from the position of computer programmer, and the first woman to become dean at a Top 10 graduate business school — Carnegie Mellon University's Graduate School of Industrial Administration.
In 1977, President Jimmy Carter appointed Bailey as the first female commissioner to serve on the Civil Aeronautics Board, where she was instrumental in deregulating the airline industry. Bailey was proud of the policy change because it encouraged free market competition and helped bring down ticket prices for travelers.
"It's allowed an awful lot of people to travel who couldn't have afforded to travel before," she told the Princeton Alumni Weekly during a 2017 interview. "Consumers do much better if you can charge fewer dollars but fill up more seats."
After leaving Carnegie Mellon in 1991, Bailey joined the faculty at Wharton. She served as chair of the Department of Business Economics and Public Policy from 1997 until 2005, before retiring in 2010. She also chaired the National Bureau of Economics Research from 2005 to 2007 and held seats on various company boards.
Bailey was known for channeling her keen intelligence and tireless energy into tackling problems and finding solutions. When there wasn't a suitable elementary school for her special needs son in New Jersey, she helped found one. While at Bell Labs in the 1970s, she envisioned how rapidly changing technology would lead to the government breakup of the company (AT&T), so she worked with executive leadership to strategize about the future. As a Carnegie Mellon dean in the 1980s, she pushed to integrate technology courses into the business curriculum, believing that the future of the C-suite would be digital.
Bailey was also a fierce advocate for women. She gave numerous media interviews during her career in which she relayed stories about the gender discrimination she endured as a woman in a male-dominated field. In a 1984 interview, she told The New York Times about how a male colleague at Bell Labs mistook her for a stenographer who must have been at a staff meeting to take notes. She voiced doubt about whether Carnegie Mellon was sincere about hiring her, or whether the administration wanted to check a box that they had interviewed a woman for the job.
"She was one of the strongest women I have ever met in my life," said Beth Moskat, program coordinator for the Department of Business Economics and Public Policy.
Moskat met Bailey in 2007, when she applied to be a part-time assistant in the department. Moskat had spent several years as a stay-at-home mom to twins and wasn't feeling confident about her chances of finding a new job, even though she had previously worked for senior partners at a law firm. She remembered how Bailey put her at ease by talking to her about her children and work experience, and invited her back for a second interview.
Moskat was being considered for the job along with a graduate student who had Excel and PowerPoint skills that she had not yet mastered. But Bailey had faith that Moskat could get up to speed quickly.
"She felt that my maturity and my strong background was more important than learning how to use software packages, and she hired me," Moskat said. "We immediately formed a friendship. She encouraged me from the very start to go full-time because Penn offered tuition benefits that I could use for my children. In three months, Betsy was able to convince our department to make me full-time and gave me added responsibilities. And I am still here."
Moskat participated in nominating Bailey for the Carolyn Bell Shaw Award, which the professor won in 2009. The award is given each year to someone who advances the status of women in economics. Moskat gathered letters of recommendation to submit for the nomination, including one from President Carter.
"I can't tell you how amazing the letters were," she said, adding that Bailey always had a waiting list of students who wanted to take her classes. One of her students was Daniel Harbuck, who became her teaching assistant and grew close to her over three years serving as a communications coach in her Business and Public Policy class.
Harbuck graduated in 2009 and now works in Global Social Impact and Sustainability at Google. He said Bailey's mentorship deeply influenced him. She was a patient listener who gave students hours of her time so they could talk through their personal and professional concerns. She also reciprocated in conversation, sharing insights from her own life as a mother, an academic, and a woman in the industry. Harbuck said Bailey's empathy, transparency, and vulnerability enabled her to build trust quickly with others, especially students.
"Prioritize people and the world will be a better place," Harbuck said when asked to describe Bailey's guiding principle. "She brought data into conversations in a way that didn't just question the status quo, but successfully overturned it. And she did it as a forward-thinking, brilliant woman growing up and working in a world predominantly run by men."
Olivia S. Mitchell, professor of business economics and public policy, said she joined Wharton in 1993 in part because there were so many women on faculty and in positions of leadership, including Bailey. She described her late colleague as a highly regarded economist with a reputation for hiring and promoting young talent — both men and women.
She "was a stellar economist, a committed policy analyst, and a wonderful colleague," Mitchell said. "We were sad to see her retire but impressed that she remained intellectually active into her later years, including taking courses in theoretical physics."
Bailey was born November 26, 1938, in New York City. She was one of five daughters to Irving and Henrietta Raymond, who were both history professors. She earned a bachelor's degree from Radcliffe College in 1960, a master's degree from Stevens Institute of Technology in 1966, and her doctorate from Princeton in 1972.
She is survived by one son, four sisters, and several grandchildren. Another son, James Bailey, died in 2018. A family member confirmed to The Washington Post that Bailey died from complications of Parkinson's disease.
Bailey leaves a legacy of excellence at Wharton and cherished memories with the many who loved her, including Moskat. She described her former boss as a gracious woman who treated everyone with equal respect.
"She was the kindest and most generous person. I ate lunch with her. I saw her outside the office. And after her retirement, we kept in contact all the time. I can't tell you how rare that is," Moskat said. "I will miss everything about her but mostly her kind heart."
Harbuck said the lessons he learned from Bailey have stayed with him.
"It is because of Betsy that I found my professional passion," he said. "And won't deviate from the course until I can confidently say, like Betsy could, even if she was too humble to do so, that I measurably left the place forever better than when I found it."
Read The New York Times obituary here, or visit Bailey's Wikipedia page.
As many in our community grieve, we want to remind everyone that they can reach the Employee Assistance Program 24 hours a day, seven days a week, by calling 1-866-799-2329 or by scheduling an online appointment using the link in Penn Cobalt.