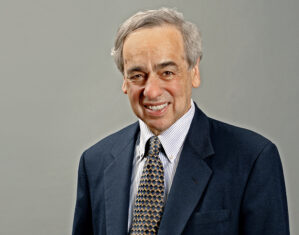 The Wharton School is sad to announce the passing of Howard C. Kunreuther, the James G. Dinan Professor Emeritus in the Operations, Information and Decisions Department, who was a world-renowned expert in behavioral economics. He died from glioblastoma on August 1, 2023, at the age of 84.
Kunreuther joined Wharton in 1972 and spent most of his career at the University of Pennsylvania, but his influence on the field of economics spread far beyond the Ivy League campus. His research in risk management and insurance garnered the attention of leaders and policymakers around the world, and he was a sought-after adviser to numerous state and federal agencies, the World Bank, the World Economic Forum, the National Academy of Sciences, the Intergovernmental Panel on Climate Change, and other organizations.
"Howard was a peerless thought leader who served this university with distinction. But more than that, he accomplished what so many of us in academia hope to do with our work, which is to create change," Wharton Dean Erika James said.
In 1985, Kunreuther co-founded the Wharton Risk Management and Decision Processes Center with the late Paul Kleindorfer, his colleague in what is now the OID Department. The center was one of the first of its kind to engage students, scholars, and organizational partners in risk-related research and policy analysis.
Wharton marketing professor Bob Meyer, who co-directed the center, was a close friend and colleague to Kunreuther for 20 years. He said Kunreuther was inspired to establish the center following the 1984 gas leak at a chemical plant in Bhopal, India, that killed thousands of people. The plant was known to have safety problems, yet no corrective action was taken before the disaster.
The case was emblematic of Kunreuther's career-long interest in applying principles of behavioral economics to risk management. As Meyer explained, prior to Kunreuther's work, when economists thought about managing risk, they assumed that both people and firms were fully rational in considering the long-term probability of a disaster and making investments that minimized expected losses. But Kunreuther was one of the first to emphasize that people do not always behave rationally, especially with low-probability, high-consequence events such as earthquakes, hurricanes, and terrorist attacks. For example, homeowners typically do not think long-term, so they often do not buy flood insurance or let their policies lapse, only to suffer a catastrophic loss later.
"He fundamentally believed that if you really want to improve risk management, you need to start with psychology, not economics," Meyer said. "As time went on, the world became such that there was a never-ending stream of disaster-related news hitting the front pages, and Howard became front and center as the person to energize work in these areas."
After the terrorist attacks of Sept. 11, 2001, Kunreuther testified before Congress in support of the passage of the Terrorism Risk Insurance Act (TRIA). In the wake of Hurricane Katrina in 2005, he helped guide FEMA in reformulating policies for the National Flood Insurance Program. He was also a thought leader in developing new and practical approaches to increase preparedness, such as encouraging mitigation through public-private partnerships and safer building construction. And he designed creative ways to overcome the financial challenges of preparedness faced by those with lower incomes. Later in his career, his focus shifted to the threat of climate change and pandemics.
"Because was deeply schooled in both economics and psychology, he was one of the first to see the benefits of fusing these two areas," Meyer said. "The most important part of his work was taking the ideas from behavioral economics he was developing and seeing how can we use this fusion to make better decisions and form better policies."
Kunreuther was a prolific author who wrote hundreds of published articles and papers. He wrote several books, including two with Meyer: The Ostrich Paradox: Why We Underprepare for Disasters and The Future of Risk Management.
He also was known for being a great collaborator, having a positive attitude, and being a father figure and mentor to countless students and colleagues.
"What I learned from him was the value of positive thinking, and the importance of helping the next generation develop and succeed. I never stopped feeling honored to have the opportunity to work with him," Meyer said.
Kunreuther is survived by his wife of 33 years, Gail Blender Loeb. Both were widowed with adult children when they met through mutual friends who thought they would be a good match despite having little in common. Kunreuther liked to ride bicycles, ski, and play tennis; Loeb enjoyed music and theater. He was a numbers whiz; math was not her favorite subject.
On their first date, Kunreuther arrived to pick up Loeb from her place in Center City and accidentally locked his keys in his car. Loeb agreed to drive him home to get a spare key from his son, Joel.
"The way Howard told the story, that's when he decided he was going to marry me," Loeb said. "As a decision scientist, he made decisions very quickly. It wasn't my feeling at first, but it was so characteristic of my sweet, absent-minded professor who would wave his hands around and knock over a bowl of peanuts because he was a very enthusiastic person about almost everything."
Loeb, a self-described "1960s social worker," joked that dating a business school professor was like "consorting with the enemy." Although they were both fiercely independent, they grew together in a marriage centered around family and shared experiences. When he talked about his research, she peppered him with questions about human welfare that made him think more deeply about policy implications. A lifelong Philadelphian, she delighted in traveling with him for his work, visiting Ethiopia, Ireland, and other places around the globe. She never embraced cycling, but he got her to ride a tandem bicycle with him through Ireland and take a motorcycle adventure through the West.
Loeb said Kunreuther was physically active and very healthy, so his glioblastoma diagnosis came as a shock. He spent 16 months struggling with the disease. As friends visited and told old stories, it helped remind Loeb of the man she fell in love with — the clumsy, chronically late, brilliant thinker who loved people and would talk to anyone about anything.
"He was a good listener and he was a risk-taker, while I'm a little risk averse," she said. "He was also a very clear explainer of what he was doing. When he gave talks, he rarely used notes. He could talk extemporaneously because he knew the material."
Wharton professor and marketing department chair Eric Bradlow met Kunreuther nearly 30 years ago as a first-year professor at the school. The two men shared a common research interest in how people process information and update their beliefs, so they worked on a paper together on that topic. That collaboration blossomed into a friendship. When Kunreuther, a devoted Dodgers fan, discovered that Bradlow loved the Yankees, he suggested they go to New York and take in a few games together.
"He was a lot of fun and an interesting person to be with," Bradlow said. "When we met, I was a junior person, and he was a senior person, but that didn't matter at all."
Bradlow described Kunreuther as a serious scholar who wasn't a serious person outside the office. He asked probing, thought-provoking questions about research as easily as he chatted about baseball stats over a beer and a hot dog.
"What I'll miss the most was just his kindness. He always asked me how I was doing and how life was going. Not the work, but life in general," Bradlow said.
Kunreuther earned a bachelor's degree in economics from Bates College in 1959 and a PhD in economics from MIT in 1963. Upon graduation, he spent a year as a Fulbright Scholar at the Econometric Institute in the Netherlands.
Kunreuther is also survived by his daughter, Laura; his son, Joel; stepsons David and Michael; and four grandchildren, Madelyn, Rafael, Sascha, and Asher. He was predeceased by his first wife, Sylvia Clifford Kunreuther. Donations may be made in his honor to the Environmental Defense Fund.
As many in our community grieve, we want to remind everyone that they can reach the Employee Assistance Program 24 hours a day, seven days a week, by calling 1-866-799-2329 or by scheduling an online appointment using the link in Penn Cobalt.