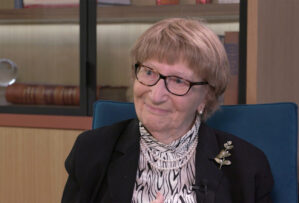 It is with great sadness that the Wharton School announces the passing of Anita Arrow Summers, an emeritus professor of economics who became a leading expert in public policy and a trailblazer for women in the field.
Summers died October 22, 2023, at her home in Gladwyne, Pennsylvania, after a short illness. She was 98.
"Dr. Summers was an intellectual giant," said Wharton Dean Erika James, who sat down with her last year for a wide-ranging interview in which the professor spoke candidly about her life and career, including the blatant gender discrimination she faced as a woman in a male-dominated industry. "She never backed down, she never gave up, and she pushed for excellence in the work. We can all see a bit more clearly because we are standing on her shoulders."
Born in 1925, Summers embarked on a career in economics when few women dared and even fewer could. Her hard work and perseverance landed her positions at John D. Rockefeller's Standard Oil Co. and the Federal Reserve Bank of Philadelphia, where she was a staunch advocate for the government's role in protecting vulnerable populations. She was a highly cited scholar who worked at universities around the world, served on numerous boards, and was a sought-after economic adviser to state and local governments.
She joined the Wharton faculty in 1979 to start the first public policy program at a business school. She was founding chair of what is now known as the Department of Business Economics and Public Policy, and she helped stand up Wharton's real estate department and Samuel Zell and Robert Lurie Real Estate Center. Summers served as a university ombudsman, worked on the provost's planning and budget committee, and won several teaching awards during her tenure.
"She was the best community builder I have ever known," said Joseph Gyourko, Wharton real estate professor and director of the Zell/Lurie Center. "She was not just talk; she did things. Others saw and emulated her, expanding her influence."
Although she made an indelible mark in academia, perhaps Summers' greatest contribution was in public policymaking at the federal, state, and local level. She advocated for evidence-based decisions in urban planning and education — from zoning laws and housing affordability to teacher pay and student achievement — and always with the greater goal of fairness, equity, and social justice.
She worked for the Federal Reserve Bank of Philadelphia from 1971 to 1979, heading its urban economics unit. Among her duties, she ensured that commercial banks in the region fulfilled their commitments under the controversial Community Reinvestment Act of 1977, which required them to lend in poor neighborhoods where they did business.
"She pioneered the idea that Federal Reserve regional bank economists should work on local and regional issues," her son, Lawrence Summers, who served as secretary of the U.S. Department of the Treasury under President Bill Clinton, told the Philadelphia Inquirer.
Summers wrote several books and seminal papers including, "Do Schools Make a Difference?" which was published in the American Economic Review in 1977. Based on data from the Philadelphia School District, it was the first research of its kind to estimate the quality of education using inputs specific to each school, and it argued that disadvantaged students could be better helped when policy is based on such data.
"Anita was ahead of her time in many ways, and this was just one example. This paper stands the test of time and still reads as very modern," said Gyourko, who later worked with Summers in developing the first nationwide index of local restrictions on residential land use, a key indicator in housing affordability.
In the 1980s and '90s, Summers wrote papers on the economic changes taking place in southeastern Pennsylvania as it transitioned away from heavy industry, mainly shipbuilding.
Summers often dealt with backlash from critics who did not want her challenging the status-quo through her public policy research, yet she never took sides. During her interview with the dean, she said she was proud that her students frequently told her they could not decipher whether she was a Democrat or a Republican.
"I thought, 'Good. That's exactly what I want,'" she said. "I was there to teach the analytic tools. I was not there to give them values and ultimate decision values on that, but what the thought processes and techniques are for thinking it through."
Her Early Life
Born in Great Neck, Long Island, and raised in Manhattan, Summers was the daughter of Jewish immigrants from Romania. She said her banker father and homemaker mother always emphasized the importance of education for all their children. Her brother, Kenneth Arrow, won the Nobel Memorial Prize in Economic Sciences in 1972, as did her brother-in-law, Paul A. Samuelson, in 1970. Her husband, Robert Summers, who died in 2012, was an economics professor at Penn. In addition to serving as Treasury secretary, son Lawrence Summers became president of Harvard University.
"Growing up, we probably spent more time discussing what government should do about poverty than at most dinner tables in America," Lawrence Summers told The New York Times.
Anita Summers earned a bachelor's degree in economics from Hunter College in 1945, followed by a master's in economics from the University of Chicago in 1947. During her undergrad years, she read Shakespeare's The Merchant of Venice and, inspired by the character Portia who disguises herself as a male lawyer to plead a case in court, briefly considered law school. But she changed her mind after a female professor told her, "You'll get into a decent law school, and you'll get a job, and you'll be in the back room. You will never see a courtroom, and you will never see your client."
After earning her master's, Summers worked as an economic analyst for Standard Oil in New York City. She recalled the male hiring manager offered her the salary by saying, "We decided we could get the same brains for less money." Her husband was teaching at Yale University, so she commuted daily from their home in New Haven, Connecticut. The company required female employees to notify management if they became pregnant and to stop working at three months. When Summers learned she was pregnant with her first child, she obtained a signed letter from her doctor and persuaded the company to allow her to work until six months.
In a poignant memory of the sexism she faced, Summers recalled when Standard Oil executives were making a big decision on buying land for a refinery in South Africa. Tasked with crunching the numbers, she worked tirelessly to prepare the report and handed it to her boss, who said she could not go with him to the C-suite because the male executive would not let any women into his office except his secretary. Summers waited by the phone as her boss called every 10 minutes with questions. "I felt like my brain was being insulted," she said. Fed up, she waited until her boss returned at lunchtime and demanded to go back with him. He relented.
"That was the most unbelievable thing from a person who's supposed to be highly intelligent that, because I was a woman, I couldn't come in and talk about all the work I had done in detail," Summers said. "Anyway, it was never a problem after that."
She left the workforce to pursue her doctorate, but did not continue because she had children. She spent 11 years raising her three sons, Lawrence, Richard, and John. Once her boys reached school age in the 1960s, she began teaching economics at Swarthmore College and joined the League of Women Voters in Lower Merion Township, becoming president of the organization. She started analyzing disparities in the real estate tax system and wrote a report advocating for changes that would bring greater equality to the county tax calculations. She was set to speak on the report at a town meeting when the man who was supposed to introduce her said, "Why don't you go [to the] back and do your knitting." Summers didn't get angry or react beyond a nod of her head. "My inner feeling was, 'Let me just speak and give the evidence,'" she said.
Summers was working at the Federal Reserve Bank of Philadelphia in the late 1970s when she got a call from Wharton Dean Donald Carroll, who asked her to come start a public policy program because he believed students headed for the private sector should understand the public sector, and vice versa. It would be the first business school in the nation to have such a program.
With encouragement from her husband, she agreed and took a position as program director, developing courses from scratch. She focused on applying economic, mathematical, and political science principles to public-sector initiatives, and she helped business students see the importance of governmental regulation in capitalism to protect the vulnerable and hold wrongdoers accountable. The program, which had been tucked inside the Legal Studies department, became a full department within three years, attracting students from across disciplines.
"Anita's life was one of great accomplishment, and yet these accomplishments still do not fully capture her," Gyourko said. "Her adult life spanned a time of transition for women in the labor force, and she was a trailblazer for women, although she did not see herself primarily in those terms … it was self-evident to her that women and men could be good practitioners of that philosophy."
Gyourko described Summers as a role model, mentor, and friend.
"I was incredibly fortunate to come under the wing of such a force of nature. Not only did Anita Summers help me in so many ways, she made me better. I will always be grateful for that," he said. "If you knew her, you certainly feel the same. If you did not know her, you really missed something."
As many in our community grieve, we want to remind everyone that they can reach the Employee Assistance Program 24 hours a day, seven days a week, by calling 1-866-799-2329 or by scheduling an online appointment using the link in Penn Cobalt.