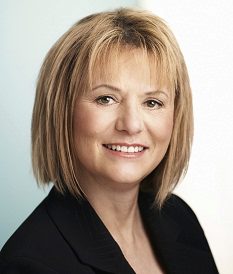 San Francisco, CA and Philadelphia, PA — The Wharton School of the University of Pennsylvania has announced that Carol Bartz, former President and CEO of both Yahoo! and Autodesk, will be the featured speaker at the School's 2012 graduation ceremony for the MBA Program for Executives at Wharton | San Francisco. The ceremony will take place May 6, 2012, at 3:00 p.m., in the Herbst Theatre of the San Francisco War Memorial & Performing Arts Center.
"Carol Bartz has shown throughout her illustrious career that leadership and vision are drivers of innovation and technology," Wharton Dean Thomas S. Robertson said. "While managing large, complex organizations, she has shown that a willingness to take risks can make good companies great. We are delighted that she will address our West Coast MBA graduates."
A regular on Forbes' list of "100 Most Powerful Women," Bartz has cast aside conventional thinking throughout her life. She fought sexual discrimination on the job during her post-college years as a computer programmer and pursued her goals with singular dedication. Through the 1980s she worked for Sun Microsystems, eventually ascending to the position of Executive Vice President of Worldwide Field Operations.
In 1992, Bartz was named CEO, Chairman of the Board, and President of Autodesk and, as such, became the first female ever to run a major technology company. During her tenure Bartz increased revenues from $300 million annually to more than $1.5 billion by 2006. Bartz is credited with streamlining Autodesk operations, emphasizing customer relationships and building a unique and lasting corporate culture.
In 2009, Bartz was asked to lead Yahoo! as President and CEO. At Yahoo! she refreshed technology to modernize the user experience, cut costs and kept its stock price stable while facing the deepest recession of the modern era. She departed Yahoo! last September.
Through her career Bartz has served on several boards of directors, including those of Intel, NetApp, the National Science and Technology Medals Foundation, and Cisco Systems where she is currently lead director. In addition, President George W. Bush named her to the United States President's Council of Advisors on Science and Technology in 2001. Bartz earned a bachelor's degree in computer science from the University of Wisconsin – Madison and has received three honorary Doctor of Letters degrees.
Previous graduation speakers at Wharton | San Francisco have included Laurence M. Baer, Arthur Bilger (W'75), Jon Huntsman Jr. (C'87, HON'10), Ken Moelis (W'80, WG'81), Paul S. Otellini and David Pottruck (C'70, WG'72). Wharton established a campus in San Francisco due to the strong belief that business executives would be well served by the option to pursue a robust, full-curriculum Wharton MBA without the need to cross the U.S. The School has graduated more than 725 students from its Wharton MBA Program for Executives in San Francisco and celebrated its tenth anniversary this year with a move to its new home at Hills Plaza.
Information about the University of Pennsylvania's 256th Commencement ceremony is available at www.upenn.edu/commencement.
About Wharton | San Francisco and the Wharton School
Wharton MBA Program for Executives in San Francisco was one of the first programs launched at Wharton | San Francisco, the School's campus in San Francisco. It offers the same MBA degree, rigorous curriculum, top Wharton faculty and high level of students as the traditional MBA program on Wharton's main campus in Philadelphia. A residential program, students attend classes on alternate weekends and during two week-long sessions in the summer. Because Wharton students live and work together during focused on-site sessions, students have an opportunity to forge close connections with classmates as well as to foster teamwork skills. In addition, the integration of work and study provides a living laboratory for applying knowledge.
The Wharton School of the University of Pennsylvania — founded in 1881 as the first collegiate business school — is recognized globally for intellectual leadership and ongoing innovation across every major discipline of business education. The most comprehensive source of business knowledge in the world, Wharton bridges research and practice through its broad engagement with the global business community. The School has 5,000 undergraduate, MBA, executive MBA, and doctoral students; more than 9,000 annual participants in executive education programs; and an alumni network of 88,000 graduates. For more information: www.wharton.upenn.edu