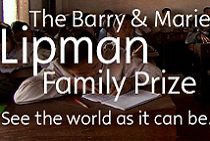 Prize and Corresponding "Un-Conference" Recognize and Amplify Organizations Dedicated to Building Sustainable Solutions for Social and Economic Challenges
Philadelphia, PA – The Wharton School of the University of Pennsylvania has announced its selection of three finalist organizations vying for the Barry & Marie Lipman Family Prize.  The Lipman Family Prize recognizes and amplifies the work of organizations devoted to positive social impact and the creation of sustainable solutions to significant social and economic challenges.  Prize finalists will present to the Prize Committee on April 12 and the winner will be selected and announced that evening at a gala at the Wharton School marking the inaugural event.  Chosen from hundreds of applicants worldwide, the Lipman Family Prize winning organization will receive $100,000.  All finalists will profit from unprecedented, synergistic opportunities with Penn and Wharton.
The 2012 Lipman Family Prize Finalists Include:
U.S.-based iDE (www.ideorg.org) provides income opportunities and clean water through sanitation technology and marketing techniques to rural areas in Africa, Asia and Latin America.
Kenya-based Komaza (www.komaza.org) creates sustainable economic opportunity through microforestry in the Ganze District in Coast Province, Kenya.
U.S.-based MedShare (medshare.org) bridges the gap between surplus and need in healthcare and has served 88 developing countries globally.
On April 13, the Lipman Family Un-Conference 2012, themed "Vision. Inspiration. Impact," will be held in Philadelphia and the three finalist organizations will present their groundbreaking work in areas of sanitation, healthcare access and environmental sustainability, to "Un-Conference" participants made up of leaders from the social sector and the Penn community.  The "Un-Conference" will be a participatory dialogue that addresses pressing challenges facing the social sector.  The format avoids a conventional conference structure and is an opportunity to work on problems with fellow participants versus serve as an audience member.  To register, please visit https://whartondeansoffice.wufoo.com/forms/barry-marie-lipman-family-prize-unconference/.  The deadline is March 30.
Currently in its inaugural year, the annual Prize has been made possible by a $6.5 million gift from Wharton alumnus Barry R. Lipman and his wife, Marie.
"My goal with this award is to expand the benefit of social impact organizations around the world by helping to improve their delivery of services through competition, to inspire Penn students to enter the field, and to encourage the transfer of successful methods of operation to similar local and regional organizations," said Barry R. Lipman, co-founder of California law firm Goldfarb Lipman.
Administered by the University of Pennsylvania through the Wharton School, the Lipman Family Prize is governed by an interdisciplinary Steering Committee comprised of faculty, and staff from across the University of Pennsylvania, drawing upon the expertise of such entities as the Center for High Impact Philanthropy, Wharton's Center for Leadership and Change Management, the Netter Center for Community Partnerships, and the School of Social Policy and Practice.
The selection of Prize finalists involved a Student Selection Committee that reviewed initial submissions and conducted the due diligence process under staff guidance, and a Prize Committee that selected the finalists and will ultimately choose the winner.
"The Lipman Family Prize recognizes organizations whose vision of creating positive social impact is realized through their unusually innovative—and strikingly effective—organizational practices," said Amy Gutmann, president of the University of Pennsylvania.  "As a University built on new ideas, passionate people and practical pursuits, the University of Pennsylvania is delighted to welcome the Lipman Prize honorees as members of the Penn and Wharton community who are having a positive impact on the world."
For more information on the 2012 Lipman Family Prize visit www.wharton.upenn.edu/lipmanfamilyprize.
About the Wharton School
The Wharton School of the University of Pennsylvania — founded in 1881 as the first collegiate business school — is recognized globally for intellectual leadership and ongoing innovation across every major discipline of business education. The most comprehensive source of business knowledge in the world, Wharton bridges research and practice through its broad engagement with the global business community. The School has 5,000 undergraduate, MBA, executive MBA, and doctoral students; more than 9,000 annual participants in executive education programs; and an alumni network of 88,000 graduates.
The Campaign for Wharton
With an ambitious $550 million goal, The Campaign for Wharton includes foundational elements and cutting-edge initiatives in such areas as faculty and student support, research programs and curriculum development, technology and facilities, and unrestricted support. Launched in 2005 and ending in 2012, The Campaign for Wharton will help to ensure Wharton's prominence as the thought leader in global business education. For more information, please visit www.thecampaignforwharton.com.
###
NOTE TO EDITORS:  Registration is required for media to attend the Lipman Family Un-Conference 2012 on April 13 for a chance to hear from/interview the Lipman Family Prize finalists and winner.  Please contact Tracy Simon at tlsimonPR@gmail.com or 267-679-2774 with interest.  If unable to attend, interviews can be arranged leading up to the finals on April 12, during, and following the winner announcement, upon request.  The winners press release will be distributed the morning of April 13 along with high-resolution photos.