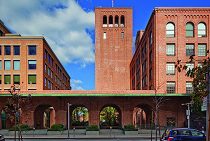 Aresty Institute for Executive Education Offers The Leadership Edge: Strategies for the New Leader, at Its New San Francisco Campus June 4-7, 2012
PHILADELPHIA — The Aresty Institute for Executive Education at the Wharton School today announced a new program, The Leadership Edge: Strategies for the New Leader. Developed to meet the needs of executives transitioning into management roles, the program brings faculty who teach the core content in Wharton's MBA program to its new San Francisco campus June 4-7, 2012.
Wharton Management Professor and Faculty Director of The Leadership Edge Nancy Rothbard notes that the transition to leadership is one of the most crucial in a career. "Executives who have already succeeded as high-level individual contributors need new skills to move into management. While many learn 'on the fly,' or as-you-go, it's better to start with the most effective tools and techniques. Undoing less-than-best practices takes valuable time and detracts from your impact as a leader."
Jeff Klein, Director of Wharton's Graduate Leadership Program, agrees. "The program will help executives broaden and build on their expertise to include leadership of the organization. We will work on the key personal and organizational skills to help the leader make the transition."
The Leadership Edge involves lectures, group discussions and projects, assessments, networking, and experiential learning to ensure that participants acquire and are able to test new concepts and skills. Klein continues, "Leadership development at Wharton focuses on three pillars: becoming a student of leadership, entering a leadership community, and seeking and accepting stretch experiences. In The Leadership Edge, we also concentrate on those pillars, with a real emphasis on the third. It's critically important to place new managers in experiences that will test the concepts they're learning. Only then do the concepts become authentic."
The program is led by outstanding Wharton faculty—the professors who teach the core courses in the world-class MBA program, including Sigal Barsade, an expert in emotional intelligence, and Ethan Mollick, whose research includes cutting-edge work on entrepreneurship and innovation. They are joined by former Director of Military Leadership at United States Military Academy, West Point, Todd Henshaw, who teaches After-Action Reviews, and John Kanengieter, a principal trainer of NASA's Space Shuttle Crews who will work with participants on team building and the dynamics of teamwork.
The executive participants of The Leadership Edge will learn how better to manage conflict, lead with emotional intelligence, communicate strategy, build and lead high-performing teams, and manage growth. Prof. Rothbard continues, "Our emphasis is on actionable knowledge. We're preparing new leaders to step back into their roles on Monday morning knowing exactly what they're going to do different—and better."
http://executiveeducation.wharton.upenn.edu/open-enrollment/leadership-development-programs/the-leadership-edge.cfm
About the Wharton School
The Wharton School of the University of Pennsylvania— founded in 1881 as the first collegiate business school — is recognized globally for intellectual leadership and ongoing innovation across every major discipline of business education. The most comprehensive source of business knowledge in the world, Wharton bridges research and practice through its broad engagement with the global business community. The School has more than 5,000 undergraduate, MBA, executive MBA, and doctoral students; more than 9,000 annual participants in executive education programs; and an alumni network of 88,000 graduates.