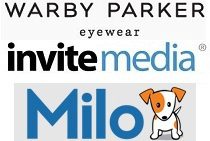 Philadelphia, PA–Wharton Entrepreneurial Programs at the Wharton School of the University of Pennsylvania is pleased to announce recipients of the 2012 Wharton Venture Award (WVA).  The $10,000 award supports students financially over the summer so that they can concentrate on developing their own entrepreneurial ventures instead of pursuing traditional full-time internships. Since 2007, the Wharton School has granted over $300,000 for 28 awards to entrepreneurially-minded students to launch businesses including such successes as Invite Media, Milo and Warby Parker.
The Wharton Venture Award recipients for Summer, 2012 are:

Samir Malik (MBA, Class of 2013) –  1DocWay
A marketplace connecting hospitals with underserved care facilities. They bring the doctor's office online. http://1docway.com/
Rajiv Mahale (MBA, Class of 2013) –  accessMD.com and Catalogue.com – (In a WVA first, Rajiv made the finals with two different ventures. He has been offered one award to allocate across both businesses.)
         accessMD.com: Offers patients and physicians across the globe a certified second opinion from one of the nation's top 20 specialty hospitals.
         Catalogue.com: An online marketplace for professionally-curated interior design inspiration. For video see: http://vimeo.com/38673477
Steve Lau and Jon Dussel (both MBA, Class of 2013) – Cloudable.me
An intuitive online application focused on enabling simple social organization and sharing of everything on the Internet. http://www.cloudable.me/home.html
Deepa Gandhi (MBA, Class of 2013) – Gold & Twine
Monogrammed, luxury and quality handbags and accessories at mid-market price points.
Su Que "Kristy" Leong (MBA, Class of 2013) – Grand Round Table
Empowers medical practitioners to connect seamlessly with the expertise, experiences, and shared resources of their own medical communities on one simple-to-use platform.
http://grandroundtable.com/home_slideshow/941
"It's an honor to receive the same award that several successful Wharton entrepreneurs have received. The Wharton Venture Award is a huge boost—it gives another stamp of credibility to 1DocWay, and it provides some financial relief so we can focus full time on growing the company this summer. We've already had success recruiting hospitals and clinics and it will be great having more time to focus on improving our product and scaling our company," said Samir Malik, WG'13 and 2012 Wharton Venture Award recipient.
The Award is open to Wharton undergraduate juniors and first-year MBA students who are developing a venture. This year's recipients were chosen from a pool of 45 applicants. Ten finalists made formal presentations to an eminent alumni selection committee who made the final decision. 
In just six years, the Wharton Venture Award has established an impressive track record of recognizing and supporting entrepreneurial talent. Past recipients, such as Nat Turner, have now come back to participate as judges for the award. Past recipients include:
     Invite Media – Nat Turner (Wharton undergraduate alumnus) – created the first universal buying platform for display media; acquired by Google for $81 million in June, 2010. http://www.invitemedia.com/
     Milo.com – Jack Abraham (Wharton undergraduate alumnus) – merged the online and off-line shopping worlds by aggregating information about what products are currently in-stock at local stores; acquired by eBay for $70 million in December 2010.  http://milo.com/
      Warby Parker  – Jeff Raider (Wharton MBA alumnus) – challenged the eyewear giants by providing boutique-quality classically crafted eyewear at a revolutionary price point, while providing a free pair of glasses to someone in need for every pair sold.  http://www.warbyparker.com/
"We are very excited about this year's recipients of the Wharton Venture Award.  The Wharton School is deeply committed to supporting student entrepreneurs as they develop their venture ideas. We're particularly proud of this Award's record. In the last five years, we've seen two awardees make highly lucrative exits, one to Google and one to eBay, and 70% of past recipients are still pursuing their venture," said Raffi Amit, the Robert B. Goergen Professor of Entrepreneurship and Academic Director for Wharton Entrepreneurial Programs.
"I've been a Wharton Venture Award judge for the past five years, and it's been an amazing journey. Students and their ventures keep getting more sophisticated. The award is meant to change a student's life by supporting them at a key moment in their entrepreneurial journey—this gives them the freedom to focus on worthy ideas full time, and to make leaps forward over the summer in their concept development," said WVA judge Rob Coneybeer, Managing Director of Shasta Ventures. 
In addition to each receiving a $10,000 grant, students will also be accepted into the Wharton Venture Initiation Program (VIP).  VIP supports serious student entrepreneurs across the University of Pennsylvania by providing office space, access to a community of student and alumni entrepreneurs, educational programming, business advising, and networking opportunities.
About the Wharton School and Wharton Entrepreneurial Programs
In 1973, The Wharton School became the first school to develop a fully integrated curriculum of entrepreneurial studies. Today Wharton, through Wharton Entrepreneurial Programs, supports and seeds innovation and entrepreneurship globally through teaching, research and co-curricular activities. At the same time, Wharton students and alumni are helping to build entrepreneurial enterprises around the world and impacting virtually every industry.
The Wharton School of the University of Pennsylvania — founded in 1881 as the first collegiate business school — is recognized globally for intellectual leadership and ongoing innovation across every major discipline of business education. The most comprehensive source of business knowledge in the world, Wharton bridges research and practice through its broad engagement with the global business community. The School has 5,000 undergraduate, MBA, executive MBA, and doctoral students; more than 9,000 annual participants in executive education programs; and an alumni network of 88,000 graduates.