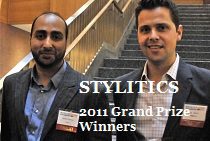 Contenders include: Online doctor's visits; website feature to keep users on your site longer; improved kidney stone removal; online education for Brazilian youth.
PHILADELPHIA, PA.—The Wharton Business Plan Competition has announced the eight finalists who will vie for $116,000 in prizes at the annual Venture Finals taking place Wednesday, April 25, 2012 at the Wharton School's Jon M. Huntsman Hall, on the University of Pennsylvania campus. The event is free and open to the public.
The Wharton Business Plan Competition "Great Eight" finalists are:
• 1DocWay: an online doctor's office connecting hospitals with underserved patient populations – including the rural, elderly and disabled – via a secure video chat platform.
• Bounce Exchange: an embeddable website feature that identifies user exit intent and serves ad and re-engagement content to increase ad revenues and user engagement and the likeliness that the user will remain on the site
• Calcula: novel urological medical devices for the removal of kidney stones without anesthesia
• ChondroPro Biosciences: disease modifying therapeutic technology to treat osteoarthritis
• Grand Round Table: online community platform seamlessly connecting medical practitioners with the expertise, experiences, and shared resources of their own medical communities
• Graphene Frontiers: patent-pending technology allowing electronics manufacturers to make high quality, low cost graphene films in volume for displays, touch screens, and thermal management solutions
• QMagico: on-line resource delivering affordable, world-class education to Brazilians through web technology focused on K-12 students
• RightCare Solutions: proprietary discharge decision support system helping hospitals, insurers, and homecare agencies identify patients at high-risk for readmissions, a $30B problem in the US.
Over the years, the Wharton Business Plan Competition, which is open to any University of Pennsylvania student and managed by Wharton Entrepreneurial Programs, has seen numerous student teams go on to become successful businesses. Last year's Michelson Grand Prize Winner, Stylitics, launched in private beta in November 2011 and was a "The Next Big Thing in Tech" nominee for the Fashion 2.0 Awards. 2011 3rd prize winner, baby.com.br, was named a top 10 start-up in Brazil, sold its millionth diaper and is the largest e-commerce retail in the baby space in Brazil. A notable semi-finalist from the 2009 competition is Warby Parker which continues to disrupt the eyeglass industry with their one-price, online only, fashionable eye glass brand.
"This year's finalists are not just presenting ideas as part of an educational exercise. They have real businesses with prototypes, functioning websites, and in some cases have paying customers using their products and services," says Megan Mitchell, senior associate director for Wharton Entrepreneurial Programs. "We saw a 30% increase in the number of concepts submitted to the competitive phase of the competition and the Great Eight represents the very best among those ideas."
The eight finalist teams face off at the Venture Finals with 20-minute presentations to judges drawn from the business and venture capital community who will then evaluate the persuasiveness and viability of each business plan. Students will receive $116,000 in cash prizes and in-kind awards including the $30,000 Michelson Grand Prize, which is made possible by the generosity of the Gary Karlin Michelson, M.D. Charitable Foundation, Inc. The Venture Finals take place April 25 at the Wharton School's Dhirubhai Ambani Auditorium and annually attract over 200 entrepreneurs, venture capitalists, investment bankers, alumni, faculty and students.
Once again the Venture Finals will feature the People's Choice award taking place during the day-ending reception. During the reception, an audience of hundreds will hear brief elevator pitches from all Finalists while the Venture Finals judges are sequestered. Just before the judges return to announce the winners, the audience will get the chance to vote for their own favorite pitch and award that team $3,000.
Venture Finals judges scheduled to select the winning teams represent a range of organizations including Spark Capital and Karlin Asset Management. The judges are:
• Michael Burns, EE'95/GEE'95/W'95, Alara Capital
• David A. Cohen, President, Karlin Asset Management
• Richard Perlman, W'68, Chairman, Compass Partners, LLC
• Santo Politi, WG'97, General Partner, Spark Capital
Note: WG=MBA alum; W=Undergraduate alum
Among this year's finalists, a few have already achieved important distinctions and milestones. 1DocWay and Grand Roundtable are Wharton Venture Award winners this year. 1DocWay is also a member of the Wharton Venture Initiation Program educational incubator.
About the Wharton School and Wharton Entrepreneurial Programs
In 1973, The Wharton School became the first school to develop a fully integrated curriculum of entrepreneurial studies. Today Wharton, through Wharton Entrepreneurial Programs <www.wep.wharton.upenn.edu>, supports and seeds innovation and entrepreneurship globally through teaching, research and outreach to a range of organizations through its many programs, initiatives and research centers. At the same time, Wharton students and alumni are helping to build entrepreneurial enterprises around the world and impacting virtually every industry.
The Wharton School of the University of Pennsylvania— founded in 1881 as the first collegiate business school — is recognized globally for intellectual leadership and ongoing innovation across every major discipline of business education. The most comprehensive source of business knowledge in the world, Wharton bridges research and practice through its broad engagement with the global business community. The School has more than 5,000 undergraduate, MBA, executive MBA, and doctoral students; more than 9,000 annual participants in executive education programs; and an alumni network of 88,000 graduates.
For more information on the Wharton Business Plan Competition, go to: http://bpc.wharton.upenn.edu.