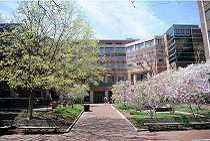 Program Brings Together Leaders at Microfinance Institutions for the Fourth Year to Discuss Innovation, Transformational Change
PHILADELPHIA– The Wharton School announced today that it expects strong attendance at the fourth cohort of the Women's World Banking (WWB) Advanced Leadership Program.
The program, implemented in partnership with The MasterCard Foundation, will be held April 16-20 at Wharton's Steinberg Conference Center. More than 70 leaders from microfinance institutions (MFIs) worldwide have participated in programs to support visionary and principled leadership in microfinance.
The UN estimates that 2.7 billion people worldwide go without access to financial services, the majority of them women, who account for 8 in 10 of all microfinance borrowers. MFIs provide critical services, including credit to start small businesses, insurance and savings programs. When a woman's business succeeds – and this holds true no matter what the country – she re-invests her profits in ways that can make long-term, inter-generational change: the education of her children, health care for her family, and improving the quality of their housing.
"Grass-roots initiatives drive much development, and when millions of small entrepreneurs can be supported to do so in unison, much will follow," says Michael Useem, William and Jacalyn Egan Professor of Management and director, Center for Leadership and Change Management at The Wharton School. "Women's World Banking and its network of MFIs reach more than 26 million women and their communities worldwide. Our program is intended to help further strengthen their leadership and capacity for innovation."
Adds WWB President and CEO Mary Ellen Iskenderian, "Creating sustainable institutions that provide women with the services they need to improve their lives requires innovation and a relentless focus on understanding what women need. We know that if we create the right types of innovative products, women will use them and they will begin to plan for their futures in ways they had never dreamt of before."
The WWB Advanced Leadership program exposes senior MFI leaders to the latest business practices and thinking to help them build a sustainable future. Sessions cover critical thinking, negotiation, human resources, organizational development strategy and succession planning. New this year is a session focused on reputation risk and the organizational phenomenon, "social contagion" offered in response to media coverage around the controversial issue of over-indebtedness and multiple borrowing that has plagued microfinance institutions in many countries, highlighted by the global financial crisis.
In addition, attendees work in teams on real-life innovation cases and present their recommendations at the end of the conference. The course challenges participants to focus on the client perspective when designing new innovative product and services.
One past participant, Raymond Patrick Serios, Special Projects manager at Negros Women for Tomorrow Foundation (NWTF), a WWB network member in the Philippines, observes, "There is now a more conscious effort on my part to make sure that I manage people effectively. I more often try to challenge my team to come up with new and more innovative solutions that would maximize benefits. I find myself asking these questions more frequently, 'Is this what the clients want?' 'How will they feel the benefits?'"
Iskenderian observes "When we talk to Wharton program graduates about what they found useful, they talk about transformational change on a personal level that then allows them to go back to their home countries and create transformational and sustainable change for their respective institutions. We are extremely proud of our accomplished graduates of the Center for Microfinance Leadership as they create and implement their future visions for leadership in the sector."
To learn more about WWB and the Center for Microfinance Leadership, visit www.leadership.swwb.org.
ABOUT THE WHARTON SCHOOL
The Wharton School of the University of Pennsylvania— founded in 1881 as the first collegiate business school — is recognized globally for intellectual leadership and ongoing innovation across every major discipline of business education. The most comprehensive source of business knowledge in the world, Wharton bridges research and practice through its broad engagement with the global business community. The School has more than 5,000 undergraduate, MBA, executive MBA, and doctoral students; more than 9,000 annual participants in executive education programs; and an alumni network of 88,000 graduates.
ABOUT WOMEN'S WORLD BANKING
Women's World Banking is a global network of 39 leading microfinance providers and banks, working in 27 countries to bring financial products and services to low-income entrepreneurs, especially women.
ABOUT THE CENTER FOR MICROFINANCE LEADERSHIP
The Center for Microfinance Leadership brings the best of leadership development and organizational diversity initiative to the microfinance sector through workshops, coaching, and support for organizational change. The Center helps CEOs and senior managers hone the skills needed to steer their institutions through this period of rapid change and commercialization. It also supports high-performing microfinance providers (MFPs) in improving the gender diversity of their leadership team and staff to optimize performance. The Center's partners, the Wharton School of the University of Pennsylvania and Creative Metier Limited, are leaders in executive development and reinforce the excellence and best practice of the program offerings.
ABOUT THE MASTERCARD FOUNDATION
The MasterCard Foundation advances microfinance and youth learning to promote financial inclusion and prosperity. Through collaboration with committed partners in 48 countries, The MasterCard Foundation is helping people living in poverty to access opportunities to learn and prosper. An independent, private foundation based in Toronto, Canada, the Foundation was established through the generosity of MasterCard Worldwide at the time of the company's initial public offering in 2006. www.mastercardfdn.org.