Prize Rewards and Amplifies Work of Social Entrepreneurs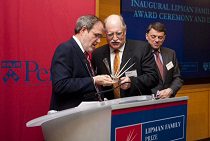 Philadelphia, PA – The Wharton School of the University of Pennsylvania announced today the winner of its inaugural Barry & Marie Lipman Family Prize – iDE, a social enterprise that has pioneered innovative, market-based approaches to safe water and sanitation access.  Chosen from hundreds of organizations worldwide devoted to social impact and building sustainable solutions for social and economic challenges, iDE received $100,000 and bragging rights at a gala marking the event's culmination last night at the Wharton School.  iDE and the two other finalist organizations, KOMAZA, a pioneering forestry social enterprise, and MedShare, a distributor of surplus medical supplies, will all profit from unprecedented, synergistic opportunities with Penn and Wharton.
"The $100,000 is one thing but the partnership with Penn and Wharton is just absolutely outstanding," said Cordell Jacks, the Water, Sanitation, and Hygiene (WaSH) Program Co-Director at iDE. "We really believe that we're going to change the world with toilets and we think that a partnership here is going to bring together great people, creative ideas and really solve a global public health challenge, something that is very finite and can be achieved in our lifetime.  So it's just really exciting to do this together with the University."
About the 2012 Lipman Family Prize Winner:
iDE is an international nonprofit organization helping poor rural households in the developing world to access the tools and knowledge they need to increase their income. iDE's productive water solutions create and increase both food production and incomes, and with innovative drinking water and sanitation technologies, iDE gives rural households the basis for healthier and more dignified livelihoods.
iDE's involvement with improved sanitation began in Cambodia, which has 16 percent sanitation coverage.  Cambodia has the second to worst rural sanitation coverage outside of Africa, at only eight percent. Furthermore, Cambodia loses approximately seven percent of its GDP, USD $448 million per year, due to poor sanitation.  iDE Cambodia's Sanitation Marketing Program (SanMark) recently reached the milestone of 10,000 latrines sold and, in 2011, the organization was awarded a major grant from the Bill & Melinda Gates Foundation, the Stone Family Foundation and the World Bank Water and Sanitation Program (WSP) to scale the SanMark approach nationally in Cambodia, targeting an additional 160,000 households.  Building further on these successes in Cambodia, iDE has recently secured funding for WaSH activities in Bangladesh and Nepal with a $400,000 UNICEF-funded scoping and piloting project utilizing the model and support of iDE Cambodia to promote both water filters and low cost, sanitary latrines.
About the Lipman Family Prize:
Currently in its inaugural year, the annual Lipman Family Prize has been made possible by a $6.5 million gift from Wharton alumnus Barry R. Lipman and his wife, Marie.
"For more than ten years, I have had a strong desire to impact the non-profit/social responsibility sector," said Barry R. Lipman, co-founder of California law firm Goldfarb Lipman.  "Through a partnership with the University of Pennsylvania and the Wharton School, my dream has been realized with the awarding of the first Lipman Family Prize.  Penn and I eagerly look forward to annually honoring an organization whose mission is to improve the lives of those less fortunate."
Administered by the University of Pennsylvania through the Wharton School, the Lipman Family Prize is governed by an interdisciplinary Steering Committee comprised of faculty, and staff from across the University of Pennsylvania, drawing upon the expertise of such entities as the Center for High Impact Philanthropy, Wharton's Center for Leadership and Change Management, the Netter Center for Community Partnerships, and the School of Social Policy and Practice.
The selection of Prize finalists involved a Student Selection Committee that reviewed initial submissions and conducted the due diligence process under staff guidance, and a Prize Committee that selected the finalists and chose the winner.
"This is the beginning of a long partnership with iDE, KOMAZA and MedShare as new members of the Wharton and Penn community," said Thomas S. Robertson, the dean of the Wharton School.  "The possibilities of these cross-sector collaborations are powerful and we look forward to our ongoing role in fostering sustainable new solutions for the advancement of society as a whole."
For more information on the 2012 Lipman Family Prize and to view videos from the March 2012 site visits to the three finalist organizations, visit www.wharton.upenn.edu/lipmanfamilyprize.
NOTE TO EDITORS:  A high-resolution photo of the winner is available upon request.  Also available is video from the Awards Gala when the winner was announced and also videos produced from site visits at each finalist organization.  Finally, interviews are available upon request.  Contact Tracy Simon at 267-679-2774 or tlsimonPR@gmail.com for assistance.
About the Wharton School
The Wharton School of the University of Pennsylvania — founded in 1881 as the first collegiate business school — is recognized globally for intellectual leadership and ongoing innovation across every major discipline of business education. The most comprehensive source of business knowledge in the world, Wharton bridges research and practice through its broad engagement with the global business community. The School has 5,000 undergraduate, MBA, executive MBA, and doctoral students; more than 9,000 annual participants in executive education programs; and an alumni network of 88,000 graduates.
The Campaign for Wharton
With an ambitious $550 million goal, The Campaign for Wharton includes foundational elements and cutting-edge initiatives in such areas as faculty and student support, research programs and curriculum development, technology and facilities, and unrestricted support. Launched in 2005 and ending in 2012, The Campaign for Wharton will help to ensure Wharton's prominence as the thought leader in global business education. For more information, please visit www.thecampaignforwharton.com.