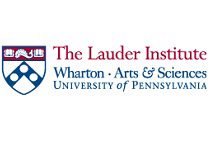 PHILADELPHIA — The Joseph H. Lauder Institute of Management and International Studies today announced a new program focused on preparing future global leaders to solve complex business problems in an inter-connected world. Multilingual students will learn cross-cultural competence and analytical skills. In addition to the Wharton MBA, they will earn an MA from the University of Pennsylvania focused on the study of international economics, comparative politics, diplomacy, international law, and cross-cultural negotiations and communications. The first class will begin the program in May of 2013.
"We need global business leaders who can operate effectively in an environment characterized by global economic forces, ever-changing technology, global consumers, and competitors with global ambitions," says William Lauder, Executive Chairman of the Estee Lauder Companies. The Lauder Institute was founded by William Lauder's father, Leonard A. Lauder, and his uncle, the Honorable Ronald S. Lauder, in memory of their father, Joseph H. Lauder.
"In addition to linguistic competence, future business leaders will need to acquire a thorough understanding of the global economic, political, social and cultural landscape," says Mauro F. Guillen, the Director of the Lauder Institute.
"The demand for MBAs with specific training in these areas is increasing and we recognize that international organizations, multinational corporations and governments want to attract MBAs who possess the requisite skills to operate in this global environment," notes Tony Davis, President of Anchorage Capital Group, LLC, a global alternatives investment manager, and a Lauder Institute alum and Advisory Council member. "By offering a program focused on global leadership and cultural fluency we feel we're helping meet that market demand," he concludes.
The new Global Program will be offered along with the existing programs at the Lauder Institute which currently include customized language and cultural training in Arabic, Chinese, French, German, Hindi, Japanese, Portuguese, Russian and Spanish. Since 1983, the Lauder Institute has offered a well-rounded education combining the prestigious Wharton MBA with a Master's degree in International Studies from Penn's renowned School of Arts and Sciences. Details about the program can be found online at www.lauder.wharton.upenn.edu.
The Lauder Institute also offers a JD/MA joint degree program. Students in this program will be prepared to assume positions of leadership in international law and policymaking.
About the Lauder Institute and the Wharton School
The University of Pennsylvania's Lauder Institute, founded in 1983, combines a world–renowned Wharton MBA with a Master's in International Studies.  Graduates join the diverse, supportive and committed worldwide Lauder community – continuing a 30-year tradition of international business leadership.  The Lauder Institute also offers an MA/JD joint degree. For more information, visit www.lauder.wharton.upenn.edu.
The Wharton School of the University of Pennsylvania— founded in 1881 as the first collegiate business school — is recognized globally for intellectual leadership and ongoing innovation across every major discipline of business education. The most comprehensive source of business knowledge in the world, Wharton bridges research and practice through its broad engagement with the global business community. The School has more than 5,000 undergraduate, MBA, executive MBA, and doctoral students; more than 9,000 annual participants in executive education programs; and an alumni network of 88,000 graduates.
About the University of Pennsylvania's School of Arts & Sciences
The School of Arts & Sciences provides a foundation for the scholarly excellence that has established Penn as one of the world's leading research universities. The School enrolls 6500 undergraduates, admits approximately 250 students each year into its 32 doctoral programs, and offers a wide range of programs for lifelong learning. International studies are a vibrant enterprise at the School of Arts & Sciences. In addition to offering instruction in 50 languages, the school is home to an array of centers, programs and institutes dedicated to the study of world regions and contemporary global issues and conflicts.