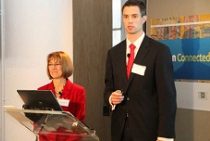 PHILADELPHIA — Discharge Decision Support System, a tool to improve health-care outcomes based on research conducted at the University of Pennsylvania School of Nursing, is the winner of the Janssen Connected Care Challenge and a $100,000 prize, awarded by Janssen Healthcare Innovation, part of Janssen Research & Development, LLC.
D2S2 helps health-care providers reduce hospital re-admission by assembling and scoring key data upon hospital admission to identify patients who should be referred to post-acute-care services upon discharge.  
D2S2 was developed by a multi-disciplinary team of researchers at the NewCourtland Center for Transitions and Health at Penn Nursing led by Kathryn Bowles, who holds the Ralston House Endowed Term Chair in Gerontological Nursing. Through Penn's UpStart program, Bowles and co-inventor Mary Naylor, the Marian S. Ware Professor in Gerontology in Penn Nursing and director of NewCourtland Center for Transitions and Health, licensed the D2S2 to RightCare Solutions, a company co-founded by Penn, Bowles and Wharton MBA graduate Eric Heil, who serves as the company's CEO.
UpStart is a business incubator in Penn's Center for Technology Transfer, which assists in the process of commercializing technologies and intellectual property.  
"We are honored to receive the top prize of the Janssen Connected Care Challenge for D2S2," Heil said. "We are looking forward to applying the award to further advance our product and ultimately improve patient care."
A panel of judges selected D2S2 as the winner from more than 100 submissions to the Challenge. Kimberly Park, founding partner of Janssen Healthcare Innovation, presented the $100,000 prize to Heil at the Wireless Health Convergence Summit in San Diego May 23.
"The Janssen Connected Care Challenge judges were impressed with all of our finalists for presenting well-conceived care-transition proposals and identified the D2S2 system as having the highest potential to improve care transitions," Park said. "D2S2 brings innovation to discharge planning by introducing standardization into the discharge-planning process, which is highly variable."
In addition to the main prize, D2S2 was also recognized with a $50,000 award for being one of the top three finalists in the Challenge. In addition, last month, RightCare Solutions earned a $30,000 prize as the winner of the Wharton Business Plan Competition.
D2S2 is based on a decade of research by the Bowles team. A successful first case study at a major academic hospital demonstrated a significant reduction in 30-day re-admissions when D2S2 was used to inform discharge planning.
"Discharge planners are overwhelmed with the volume of complex patients churning through our hospitals," Bowles said. "We are eager to support their decision making with tools like the D2S2 so our patients get the right care and achieve improved outcomes."
The prize money will support the build-out of the D2S2 software and additional studies at four hospitals.