School Receives Excellence in Practice Award From the European Foundation for Management Development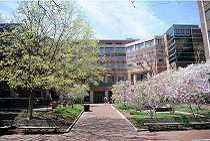 PHILADELPHIA — The EFMD Excellence in Practice Award is given for case studies describing effective, high-impact leadership and development training programs. The innovative custom leadership program submitted to EFMD by Wharton and Merck, "Merck Global Human Health Executive Development Program," was designated as the most outstanding entry in the category of executive development.
"We are honored to be recognized by this international organization," said Sandhya Karpe, Managing Director of Custom Programs, at Wharton Executive Education. "The Merck partnership represents Wharton's commitment to custom programming that delivers knowledge for immediate business impact. Participants challenged assumptions, revisited strategic initiatives in the light of cutting-edge research, and translated what they learned in the program into action when they were back on the job."
"Developing people, enhancing skills and providing a learning environment are essential components for any company, and all of the winning cases and highly commended cases show that investing in people is not a luxury; it is a key asset for business success if done well," said Dr. Richard Straub, Director of Development at EFMD.
Wharton and Merck collaborated on the design and implementation of a learning initiative designed to accelerate the development of key capabilities of Merck's senior leaders  to advance Merck's business goals. The Global Human Health (GHH) Executive Development Program is a 12-month, highly innovative, blended learning and development initiative. It integrates a top leadership strategy workshop with four residential modules interspersed with action learning project work.
The learning initiative accelerated the development of strategic capabilities and leadership behaviors needed to drive business decisions in General Manager and Managing Director roles. Projects developed during the program generated additional revenue streams and furthered Merck's growth strategy. Participants achieved significant and valuable business results, attributed largely to capabilities they acquired in the program and that led to significant financial outcomes. The learning initiative helped to advance over 60% of participants into new leadership positions.
The case team included Nancy Singer, Judy Kelley, and Cara Stolarczyk for Merck, and Sandhya Karpe and A. Janeen Pesiridis for Wharton. The winning partnerships will be presented during EFMD's annual Executive Education conference hosted by the Instituto Internacional San Telmo in Seville, Spain from October 3-5, 2012.
About the Wharton School
Founded in 1881 as the first collegiate business school, the Wharton School of the University of Pennsylvania is recognized globally for intellectual leadership and ongoing innovation across every major discipline of business education. With a broad global community and one of the most published business school faculties, Wharton creates ongoing economic and social value around the world. The School has 5,000 undergraduate, MBA, executive MBA, and doctoral students; more than 9,000 annual participants in executive education programs; and a powerful alumni network of 91,000 graduates.
About EFMD
EFMD advances excellence in management development in Europe and worldwide by building links between leading business schools and companies, creating and disseminating knowledge on best practices and changing trends and providing access to benchmarking tools and accreditations (EQUIS, EPAS, CEL, CLIP). With more than 780 member organizations from academia, business, public service and consultancy in 82 countries, EFMD provides a unique forum for information, research, networking and debate on innovation and best practice in management development.
EFMD is a global network organization dedicated to the continuous improvement of management development. It brings together leading academics and senior executives from business schools and companies and provides them with unparalleled benchmarking and networking opportunities.
For more information on EFMD awards and winners visit www.efmd.org/eip.