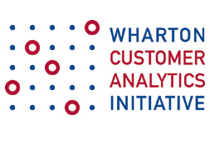 These advanced methods for predicting customer lifetime value can now be accessed through an open-source platform
PHILADELPHIA –The Wharton Customer Analytics Initiative (WCAI), a research center at the Wharton School of the University of Pennsylvania, today announced the release of the Buy ꞌTil You Die Models (BTYD) Package (http://cran.r-project.org/web/packages/BTYD/) through the R Project for Statistical Computing, a free software environment for statistical computing and graphics. The package provides open access for organizations, students and scholars to conduct advanced, customer-base analysis.  Using the package, users can predict the future behavior of their customers based on their past transaction behavior.
The Buy ꞌTil You Die Models (BTYD) package contains functions for data preparation, parameter estimation, scoring, and plotting for the BG/BB and Pareto/NBD models popularized by Pete Fader, Co-Academic Director of the Wharton Customer Analytics Initiative and a Professor of Marketing at the Wharton School, and Bruce Hardie, Professor of Marketing at the London Business School. These models are used in assessing the customer lifetime value of an individual in non-contractual settings.
"I strongly believe that any analyst or researcher working in the area of customer analytics should have these models as part of their toolkit," said Hardie. "Existing MATLAB- and Excel-based implementations of the Pareto/NBD and BG/BB models have been used by many analysts and researchers to demonstrate the power and value of these models in a wide variety of business settings. I hope that this R package will make these models accessible to a wider audience of analysts and researchers and make it easier for currently adopters to use the models on a 'production' basis."
Dr. Elea McDonnell Feit, Executive Director of the WCAI, described the package's development, "One of the key goals of WCAI is to put the innovations that have been developed by academics into the hands of the broader analytics community. With the BTYD package, we've made a set of sophisticated methods for predicting customer lifetime value accessible to a broad range of practitioners and students." Feit continued, "WCAI hopes to expand this program, developing a series of software packages that would make advanced methods for other problems like advertising attribution or product recommendations easier to use in practice."
The release of this package marks the start of WCAI forging the path to not only empower analytics practitioners with advanced analytics tools through public platforms such as the R Project, but also enable researchers to see their models implemented in an accessible way.
"As a researcher, there's no better feeling than getting requests from colleagues who want to use and extend your models.  Sometimes it's hard to comply with these requests because your code was written for a very specific purpose and isn't well documented," said Fader.  "So, developing this R Library was a true labor of love, and I'm so glad we've made it available for the world to use.  I sincerely hope that other researchers will find it to be helpful to their ongoing projects, but also stimulating to drive new ideas."
The BTYD package was developed by research assistants Edward Wadsworth, an undergraduate student at the Wharton School and the School of Engineering of the University of Pennsylvania, and Luke Dziurzynski, a University of Pennsylvania alumnus, with oversight by Feit, Fader, and Hardie, and contributions from a team of practitioners and students.
About the Wharton Customer Analytics Initiative
The Wharton Customer Analytics Initiative (WCAI, http://wcai.wharton.upenn.edu)  is the preeminent academic research center focusing on the development and application of customer analytic methods.  Acting as "matchmaker" between academia and industry, WCAI has had a broad impact on the practice of data-driven business decision-making, and the dissemination of relevant insights to managers, students, and policy makers.
Based in the Wharton School's Marketing Department and designed to capitalize on Wharton's longstanding strength in conducting empirical research, WCAI is an interdisciplinary effort that brings a passionate data-driven perspective unmatched by any other business school.
About the Wharton School of the University of Pennsylvania 
The Wharton School of the University of Pennsylvania— founded in 1881 as the first collegiate business school — is recognized globally for intellectual leadership and ongoing innovation across every major discipline of business education. The most comprehensive source of business knowledge in the world, Wharton bridges research and practice through its broad engagement with the global business community. The School has more than 4,900 undergraduate, MBA, executive MBA, and doctoral students; more than 9,000 annual participants in executive education programs; and an alumni network of 91,000 graduates.