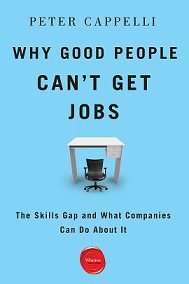 Much-praised book that confronts the "skills gap" myth available at no cost from Amazon, Apple, Barnes & Noble, and Sony
What:  To stimulate discussion on the jobs crisis during this presidential election season, Wharton Digital Press and author Peter Cappelli, Professor of Management at the Wharton School of the University of Pennsylvania, are offering his ebook, Why Good People Can't Get Jobs: The Skills Gap and What Companies Can Do About It free for one week.  In his book, Cappelli confronts the myth of the skills gap and provides an actionable path forward to put people back to work. Download at no cost the book that has been praised and featured in the New Yorker, the Wall Street Journal, the Washington Post and on the "Tavis Smiley Show."
When: Why Good People Can't Get Jobs is free to download September 10-17, 2012
How: Download the ebook for free from Amazon, Apple, Barnes & Noble, and Sony for one week only: September 10-17, 2012. For updates, visit Wharton Digital Press's http://wdp.wharton.upenn.edu/books/why-good-people-cant-get-jobs/.
Who: Peter Cappelli is the George W. Taylor Professor of Management at The Wharton School and Director of Wharton's Center for Human Resources. His recent research examines changes in employment relations in the U.S. and their implications. Cappelli writes a monthly column on workforce issues for Human Resource Executive Online and has contributed to the Wall Street Journal, the Washington Post, Bloomberg Businessweek, and other news venues. His books include Managing the Older Worker: How to Prepare for the New Organizational Order; The India Way: How India's Business Leaders are Revolutionizing Management; and Talent on Demand: Managing Talent in the Age of Uncertainty.
For complete information, please visit http://www.wdp.wharton.upenn.edu/ or contact Peter Winicov, Senior Associate Director, Wharton Communications at +1-215-746-6471 or communications@wharton.upenn.edu.
About the Wharton School
 Founded in 1881 as the first collegiate business school, the Wharton School of the University of Pennsylvania is recognized globally for intellectual leadership and ongoing innovation across every major discipline of business education. With a broad global community and one of the most published business school faculties, Wharton creates ongoing economic and social value around the world. The School has 5,000 undergraduate, MBA, executive MBA, and doctoral students; more than 9,000 annual participants in executive education programs; and a powerful alumni network of 91,000 graduates