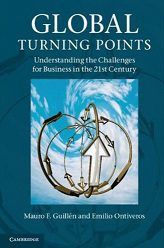 International Globalization Experts Examine Major Economic Trends and Events, their Impact on Industry and Technology, and their Significance for Global Economies and Business in the 21st Century
PHILADELPHIA — The Joseph H. Lauder Institute of Management & International Studies and the University of Pennsylvania's Wharton School today announced the publication of a new book through Cambridge University Press,
Global Turning Points, Understanding the Challenges for Business in the 21st Century
.  The book, co-authored by the director of the Lauder Institute, Mauro F. Guillen and University of Madrid economist and professor, Emilio Ontiveros, explores the social, economic and political game-changing events that foreshadow the business and economic challenges the world will face in the 21
st
Century.
"The world is very different now than it was a century ago or even a decade ago.  Emerging economies now represent half of the global economy, and their companies are taking over major industries, even in high-technology fields. During the next few decades, India will be the biggest country in terms of population, China the largest in output, and the United States the richest among the major economies on a per capita income basis," says Guillen. "The world is replete with uncertainty and complexity.  Economies and global businesses will have to adapt if they want to succeed in these new environments and these shifts are something the world's Business Schools will have to prepare MBA graduates for.  It's a very different world now."
The book provides a detailed analysis of key political, demographic, social, environmental, and geopolitical turning points and future scenarios with an emphasis on business and economic topics, drawing on examples also from the recent global financial crises.
"This book provides fundamental insights into the changing of the guard in the global economy and the global system of states, analyzing the rise of China and the other emerging giants and what the United States and Europe should do about it," says Javier Solana, Former NATO Secretary-General.
"A rapidly changing global economy combined with the current economic crisis is creating a new era in which economic well-being and power is being fundamentally reshaped," says Ontiveros.  "This is essential reading for policy-makers, economists, business-decisions makers, and those studying to become members of those groups."
The book is published by Cambridge University Press.  The book is available for purchase online here.
Mauro F. Guillen is the Director of the University of Pennsylvania's Joseph H. Lauder Institute of Management and International Studies, and Dr. Felix Zandman Professor of International Management at the Wharton School. He has written extensively about multinational firms, economic development, and the diffusion of innovations.  His personal website is at: http://www-management.wharton.upenn.edu/guillen/
Emilio Ontiveros is Founder and President of Analistas Financieros Internacionales, S.A.  President of Tecnologia, Informacion y Finanzas, Escuela de Finanzas Aplicadas, and Afinet Global (subsidiaries of AFI Group, a consultancy). He has served as Professor of Economic and Business Administration at the Universidad Autonoma de Madrid since 1985, where he was Vice Chancellor for four years.  He has been visiting scholar at the Wharton School and his personal biography can be found at: http://emilioontiveros.com/
About the Lauder Institute
The University of Pennsylvania's Lauder Institute, founded in 1983, combines a world–renowned Wharton MBA with a Master's in International Studies. Advanced language and foreign culture training, a two-month in-country immersion, and a Master's Thesis from the School of Arts & Sciences all prepare Lauder Fellows for the ever-evolving global economy. This year's offerings include the new Global Program for students who are already fluent in several languages. Graduates join the diverse, supportive and committed worldwide Lauder community – continuing a 25-year tradition of international business leadership.  The Lauder Institute also offers an MA/JD joint degree. For more information, visit www.lauder.wharton.upenn.edu.
About the Wharton School
Founded in 1881 as the first collegiate business school, the Wharton School of the University of Pennsylvania is recognized globally for intellectual leadership and ongoing innovation across every major discipline of business education. With a broad global community and one of the most published business school faculties, Wharton creates ongoing economic and social value around the world. The School has 5,000 undergraduate, MBA, executive MBA, and doctoral students; more than 9,000 annual participants in executive education programs; and a powerful alumni network of 91,000 graduates.