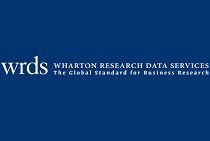 PHILADELPHIA–The Wharton School of the University of Pennsylvania announces that Wharton Research Data Services (WRDS), the leading comprehensive, internet-based data research service, has added the FactSet Ownership Database to its already extensive FactSet data offerings. WRDS provides instant access to over 200 terabytes of data across Finance, Marketing, and Economic disciplines, making it the gold standard business intelligence tool for over 30,000 users in 28 countries.
FactSet Research Systems is a leading provider of financial data and analytics to the global investment community. Considered the market standard, FactSet Ownership (formerly LionShares, acquired by FactSet in 2000) provides global institutional, mutual fund, stakeholder, and float-related share ownership information, covering equity positions held by over 30,000 institutions, 40,000 mutual funds, and more than 400,000 insiders and stakeholders from over 120 countries with daily updates and history dating back to 1999.
The addition of FactSet data is part of WRDS' continued growth and dedication to meeting the information needs of the financial services industry, including niche market clients worldwide.
"FactSet Ownership is one of the most substantial and important resources for business researchers worldwide and WRDS is excited to add it to our existing roster of FactSet databases," said Robert Zarazowski, Senior Director of WRDS. "WRDS understands the changing needs of our clients, and FactSet Ownership will give researchers the deep historical data they need to make strategic decisions based on accurate data."
FactSet provides the flexibility to investigate share ownership from both the company and holder perspective. From ultimate parent ownership to holder peer analysis, FactSet Ownership allows analysis of ownership data or examination of historical share movements.
Typical users of this data include academic researchers, investment managers, hedge funds, investment bankers, private equity firms, traders, research analysts, consultants, advisors, corporate investor relations professionals, and government agencies.
"We are tremendously excited to continue our partnership with Wharton Research Data Services," said Phil Snow, Global Director of Content & Technology Solutions for FactSet Research Systems. "Adding FactSet Ownership to the WRDS platform will allow the academic research community to easily analyze ownership information by both the company and holder perspectives, as well as, historical share movements."
About WRDS and the Wharton School
Wharton Research Data Services (WRDS) is the leading, comprehensive, internet-based data research service used by academic, government, non-profit institutions, and corporate firms. Developed in 1993 to support faculty research at the Wharton School of the University of Pennsylvania, WRDS has since evolved to become the leading business intelligence tool for the global research community.
Founded in 1881 as the first collegiate business school, the Wharton School of the University of Pennsylvania is recognized globally for intellectual leadership and ongoing innovation across every major discipline of business education. With a broad global community and one of the most published business school faculties, Wharton creates ongoing economic and social value around the world. The School has 5,000 undergraduate, MBA, executive MBA, and doctoral students; more than 9,000 annual participants in executive education programs; and a powerful alumni network of 91,000 graduates.
About FactSet
For over 30 years FactSet has been a leading provider of accurate financial information and superior software solutions to the global investment community. By integrating content from hundreds of financial databases with powerful analytics on a single platform, FactSet supports the investment process from initial research to published results. With Microsoft Office integration, mobile access, and customizable options, FactSet offers the most complete financial workflow solution available. More than 45,000 investment professionals rely on FactSet's comprehensive data, exceptional functionality, and industry-leading support to power their process. FactSet is headquartered in Norwalk, Connecticut and conducts operations in twenty-eight locations worldwide. Follow FactSet at www.factset.com or on Twitter at www.twitter.com/factset.