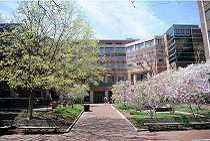 New Executive Leadership Program at Wharton School for AACN helps nursing school deans meet challenges of 21st century healthcare industry
Philadelphia, PA — The Aresty Institute for Executive Education at the Wharton School of the University of Pennsylvania recently partnered with the American Association of Colleges of Nursing (AACN) to offer a first-of-its-kind leadership development program designed specifically for nursing school deans.
The four-day program AACN-Wharton Executive Leadership Program was attended by 37 deans from 25 states. The association's Board of Directors was instrumental in shaping this unique and sophisticated leadership development opportunity for member Deans. AACN was supported in this work by Jonas Center for Nursing Excellence, which provided generous financial support to this program through the Jonas Family Fund.
"AACN was thrilled to partner with Wharton, whose long history in building leadership and executive expertise is exactly what our members need today. The program gives them another set of skills, knowledge, and experiences that will help them move into a new way of operating. That's what we wanted them to get from this experience at Wharton, to be able to bring their issues to the table as an important part of the conversation around healthcare," said Dr. Polly Bednash, CEO and Executive Director of AACN.
In addition to program sessions designed to build core leadership competencies; including leading change, influence and persuasion, stakeholder management, and building strategic partnerships; the group heard from Joan Hendricks, Dean of the University of Pennsylvania's School of Veterinary Medicine, on issues more specific to academic leadership. Dr. Dorrie Fontaine, Dean of the University of Virginia School of Nursing, appreciated Dean Hendrick's session. "She was very open and willing to share her experiences. Getting practical advice from someone who understands my situation, in addition to the academic content, was really valuable."
Wharton Adjunct Associate Professor, Operations and Information Management, Kathy Pearson serves as the program's Learning Director. "Working with AACN, we were able to bring together the right blend of academic thought leadership, hands-on work to integrate learning, and practical experience from the healthcare and higher education fields. The needs of the participants were also met through an emphasis on the learning community: the deans found they had much to learn from each other."
Wharton's Program Director, Pearl Sumathi, notes that the custom executive education program is a blend of world-class thought leaders, industry experts, and the client. "Wharton considers itself as a partner, collaborating with clients like AACN to deliver the kind of expertise and experience that benefits both AACN and the participants." Wharton is also a partner with the University of Pennsylvania's School of Nursing, whose top-ranked program provides cutting-edge research and thought leadership to a new generation of nurses.
AACN President Dr. Jane Kirschling agrees. "In the healthcare industry today, we are dealing with tremendous conflicts and competing interests. Wharton is the place to bring our leaders in academic nursing so they can build skills for negotiation, for collaboration, for cooperation, and for entrepreneurial behavior. This program is going to help them become the leaders who can move us into the future."
ABOUT THE WHARTON SCHOOL & WHARTON EXECUTIVE EDUCATION
Founded in 1881 as the first collegiate business school, the Wharton School of the University of Pennsylvania is recognized globally for intellectual leadership and ongoing innovation across every major discipline of business education. With a broad global community and one of the most published business school faculties, Wharton creates ongoing economic and social value around the world. The School has 5,000 undergraduate, MBA, executive MBA, and doctoral students; more than 9,000 annual participants in executive education programs; and a powerful alumni network of 91,000 graduates.
Informed by in-depth academic research and extensive industry experience, Wharton Executive Education programs offer a supportive and challenging context from which participants gain the skills necessary for their next level of executive development. In open-enrollment and customized programs, participants from a diverse range of industries interact with Wharton faculty, who are one of the most cited, most published faculties of all top-tier business schools. With a profound influence on global business, Wharton faculty are the trusted advisors of corporations and governments worldwide.