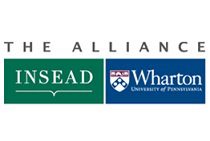 FOUR CAMPUSES. TWO SCHOOLS. ONE ALLIANCE.
Abu Dhabi (UAE), Fontainebleau (France), Singapore and U.S. –INSEAD, the leading international business school, and the Wharton School of the University of Pennsylvania, have signed an agreement to continue their educational alliance for another three years. Since 2001 students from both schools have participated in the alliance exchange programme which enables MBA and PhD students to study across three campuses: INSEAD's in Fontainebleau, France and Singapore, and Wharton's campus in Philadelphia
The Alliance leverages the strengths of both schools to deliver unmatched reach and resources to businesses worldwide. With this Alliance, both schools are able to engage in broader, more powerful collaborations:
Opportunity for MBA and PhD students to study across three continents.
New knowledge creation with the intellectual scope of both schools through a joint Wharton–INSEAD Center for Global Research & Education
Unique capability to design and deliver executive education programmes for corporations and senior managers across three continents.
Opportunity for faculties from both schools to spend time teaching and doing research at the Alliance partner's campuses.
Leveraging the strong alumni networks of both schools.
The Alliance's four campuses also create new opportunities to offer enhanced value to multinational clients demanding global customised executive education and open enrollment programmes.
Thomas S. Robertson, Dean and Reliance Professor of Management and Private Enterprise, stated: "Wharton believes that there are three key elements of a truly global business education. First, a diverse student body working together both inside and outside of the classroom is essential. For example, this year's entering MBA class is more than 30% non-U.S., so they all bring different perspectives, which enriches the overall learning experience for everyone. Second, there needs to be truly global content in teaching materials, whether it be case studies or examples. Third, faculty need to be actively engaged in research that impacts global companies."
Students in the Alliance benefit from courses and opportunities illustrating the strength of both INSEAD and Wharton. For example, many Wharton students choose INSEAD for the Blue Ocean Strategy courses created by INSEAD Professors Kim Chan and Renée Mauborgne, while INSEAD students profit from the exposure to US companies and culture offered at Wharton.
Dipak C. Jain, Dean of INSEAD, commented: "The strategic alliance between Wharton and INSEAD is based on the shared belief that tomorrow's market leaders in management education must have global reach and be part of a global business education and knowledge network with a leadership position in America, Europe and Asia. The two schools also share common values regarding the role and importance of lifelong business education."
The decision to form the Alliance came about as the result of each school's mission to deliver global business education unmatched by other business schools. INSEAD and Wharton offer complementary centres of expertise and campus locations, creating a worldwide network unique among global business schools.
"In the last few years we have increased funding for joint research efforts between the two schools," said INSEAD's Alliance Director Serguei Netessine.  "We have a growing number of PhD students participating in the programme who can avail themselves of these research funds to conduct their work on three continents.  This academic year, we will also hold the first research conference to be organised by PhD candidates from the two schools in Fontainebleau, France, on the topic of global strategy."
"It's really allowed Wharton students and faculty to take advantage of each school's breadth and depth of connections. There have been a very successful student exchange programme, several successful joint executive education programmes, new research collaborations, and various other initiatives in the works," said John R. Kimberley, Executive Director, Wharton/INSEAD Alliance.
About INSEAD, The Business School for the World
As one of the world's leading and largest graduate business schools, INSEAD brings together people, cultures and ideas to change lives and to transform organisations. A global perspective and cultural diversity are reflected in all aspects of our research and teaching.
With campuses in Europe (France), Asia (Singapore) and Abu Dhabi, INSEAD's business education and research spans three continents. Our 145 renowned Faculty members from 35 countries inspire more than 1,000 degree participants annually in our MBA, Executive MBA, specialised master's degrees (Master in Finance, Executive Master in Consulting and Coaching for Change) and PhD programmes. In addition, more than 9,000 executives participate in INSEAD's executive education programmes each year.
In addition to INSEAD's programmes on our three campuses,  INSEAD participates in academic partnerships with the Wharton School of the University of Pennsylvania (Philadelphia & San Francisco); the Kellogg School of Management at Northwestern University near Chicago, and  Johns Hopkins University/SAIS in Washington DC. In Asia, INSEAD partners with Tsinghua University in Beijing.  INSEAD is a founding partner in the multidisciplinary Sorbonne University created in 2012, and also partners with Fundação Dom Cabral in Brazil.
INSEAD became a pioneer of international business education with the graduation of the first MBA class on the Fontainebleau campus in Europe in 1960.  In 2000, INSEAD opened its Asia campus in Singapore. And in 2007 the school began an association in the Middle East, officially opening the Abu Dhabi campus in 2010.
Around the world and over the decades, INSEAD continues to conduct cutting edge research and to innovate across all our programmes to provide business leaders with the knowledge and sensitivity to operate anywhere. These core values have enabled us to become truly "The Business School for the World."
More information about INSEAD can be found at www.insead.edu
About the Wharton School 
Founded in 1881 as the first collegiate business school, the Wharton School of the University of Pennsylvania is recognized globally for intellectual leadership and ongoing innovation across every major discipline of business education. With a broad global community and one of the most published business school faculties, Wharton creates ongoing economic and social value around the world. The School has 5,000 undergraduate, MBA, executive MBA, and doctoral students; more than 9,000 annual participants in executive education programs; and a powerful alumni network of 91,000 graduates.