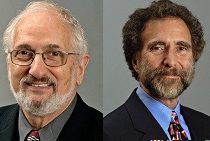 PHILADELPHIA, PA– Knowledge@Wharton, the award-winning online research and business analysis journal of the Wharton School of the University of Pennsylvania, today launched Israel Knowledge@Wharton, an addition to its global network of websites that already includes Spanish, Portuguese, Chinese, Indian and Arabic editions along with the U.S. based parent site. The site, which is free and published in English, will include articles that focus on Israeli innovation and entrepreneurship, among other topics.
"Through Knowledge@Wharton, the Wharton School shows its commitment to providing knowledge that can help industries and communities around the world," said Wharton Dean Thomas S. Robertson. "The launch of Israel Knowledge@Wharton will provide unique opportunities for a deeper understanding of Israel's economy, which plays such a significant role in today's inter-connected global market."
Israel Knowledge@Wharton is led by an advisory board co-chaired by Professors of Marketing Jerry Wind and David Reibstein.  "Israel is a vibrant part of the world's economy.  It is essential we have a view into its developments and contributions to the Middle East region," said Prof. Reibstein, the Woodside Professor of Marketing.   Lauder Professor of Marketing, Jerry Wind added, "Innovations affecting industries all around the globe are emanating from Israel, and Israel Knowledge@Wharton will play a welcome role in disseminating this knowledge."
Founded in 1999, Knowledge@Wharton has long covered the emergence of the Middle East as a global economic force, including its 2010 launch of Arabic Knowledge@Wharton. Israel Knowledge@Wharton will produce timely articles, podcasts, research papers and exclusive interviews with business and government leaders, among others for distribution to subscribers around the world. The content will draw upon the expertise of Wharton's 10 academic departments, 20 research centers/initiatives and the faculty at the University of Pennsylvania.
"The economic challenges confronting the global economy show that the world is interconnected," said Mukul Pandya, executive director and editor in chief of the Knowledge@Wharton Network. "The Israel edition – whose creation was spearheaded by my colleague Bruce Brownstein — will allow us to share analysis and insights from Israel with Knowledge@Wharton readers everywhere."
In addition to Profs. Reibstein and Wind, Israel Knowledge@Wharton's advisory board consists of international business leaders including:
Apax Partners Israel
Tennenbaum Capital
The Mack Company
Rida Development
Steinhardt Management
As the newest member of the Knowledge@Wharton Network, the Israel edition joins Arabic Knowledge@Wharton,  China Knowledge@Wharton (Chinese), India Knowledge@Wharton (English), Universia Knowledge@Wharton (Spanish and Portuguese) and the original English language Knowledge@Wharton. As of this month, the Network has more than 2.1 million subscribers in 189 countries.
About the Wharton School and Knowledge@Wharton
Founded in 1881 as the first collegiate business school, the Wharton School of the University of Pennsylvania is recognized globally for intellectual leadership and ongoing innovation across every major discipline of business education. With a broad global community and one of the most published business school faculties, Wharton creates ongoing economic and social value around the world. The School has 5,000 undergraduate, MBA, executive MBA, and doctoral students; more than 9,000 annual participants in executive education programs; and a powerful alumni network of 91,000 graduates.
Knowledge@Wharton is a free biweekly online resource that captures knowledge generated at the Wharton School and beyond through such channels as research papers, conferences, speakers, books, and interviews with faculty and other business experts on current business topics. The Knowledge@Wharton network – which includes Chinese, Spanish, Portuguese and Indian editions – has more than 2.1 million subscribers worldwide.