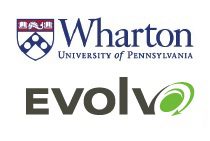 Research Seeks to Uncover Fundamental Truths of Workforce Behavior and Attrition Though Analysis of Big Data
SAN FRANCISCO — Evolv, the leading provider of SaaS-based workforce profitability solutions, today announced a collaboration with the Center for Human Resources at the Wharton School of the University of Pennsylvania, the groundbreaking academic contributor of relevant research concerning domestic and international human resources for close to a century. The organizations have combined resources to pursue new research in workforce intelligence and the resultant impact on workforce productivity and human resources.
"Working with Wharton will allow unprecedented collaboration among leaders of the most rigorous research in human resources and workforce intelligence," said Evolv CEO Max Simkoff. "What's particularly exciting about our collective data-driven approach is the opportunity to validate, and when necessary debunk current practices using real-world experience aggregated in Big Data."
The Director of Wharton's Center for Human Resources, Peter Cappelli noted, "The Wharton School wanted to work with Evolv because massive-scale data mining and analysis supports discovery of new relationships that are not generally expected by hiring experts. Evolv is leading the field in this type of work and we look forward to more unexpected insights to come."
Professor Cappelli is the preeminent global authority on supply chain thinking in talent management and was recently lauded by HR Most Admired for his "bravery in taking a contrarian view and challenging US-centric views on leadership and management practices." In addition to directing the Center, Dr. Cappelli is the George W Taylor Professor of Management at The Wharton School. His publications include The New Deal at Work: Managing the Market-Driven Workforce and Management: Managing Talent in an Age of Uncertainty and The India Way, a groundbreaking new approach for sustaining competitive advantage in across the global economy
Evolv and Wharton will initially explore the effects of management structures, employment practices, and employee relationships on workforce profitability and performance. Through compilation and analysis of large data sets acquired across a multitude of industries, job types and regions Evolv and Wharton will unlock new actionable insights into workforce management and decisions.
About Evolv
Evolv harnesses the power of big data predictive analytics and machine learning to uncover and correct the inefficiencies that undermine the performance of global workforces. Evolv's SaaS-based analytics platform delivers actionable decision support throughout the employee lifecycle by identifying improvement areas and transforming core operational business processes to drive increased employee retention, productivity and engagement. Evolv guarantees specific operational savings and increased operating profitability for each client averaging millions of dollars.
About The Wharton School
Founded in 1881 as the first collegiate business school, the Wharton School of the University of Pennsylvania is recognized globally for intellectual leadership and ongoing innovation across every major discipline of business education. With a broad global community and one of the most published business school faculties, Wharton creates ongoing economic and social value around the world. The School has 5,000 undergraduate, MBA, executive MBA and doctoral students; more than 9,000 annual participants in executive education programs; and a powerful alumni network of 91,000 graduates.
For more information, visit www.evolvondemand.com or call 866.971.4473.