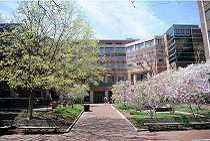 New Program Helps Executives Drive Top-Line Growth Consistently
PHILADELPHIA — The pioneers of Innovation Tournaments, Wharton professors Christian Terwiesch and Karl Ulrich, and Wharton's Aresty Institute for Executive Education, announce a unique opportunity for executives: learn to manage something often thought of as illusive and left to chance.  The new three-day Innovation Tournaments program, to be offered March 18-20, 2013, dismisses the view that innovation, and the creativity it calls for, is about luck and providing the right people with the right atmosphere in which to create. Instead, it stresses that innovation is a process that can be controlled and–crucially–repeated endlessly.
In Hollywood, it's the storyline for a movie. For a consumer products company, it might be a newly expressed customer need, perhaps in response to new information about health. For a venture capital firm, it's a business plan submitted by a startup. They're different opportunities, but a standard method for innovation can manage all of them. Based on scientific principles, analytical tools, and empirical evidence, Innovation Tournaments have been used by hundreds of organizations over the past decade to yield these opportunities and more. The program will be taught by Wharton Professors of Operation and Information Management Terwiesch and Ulrich. Ulrich is also Wharton's Vice Dean of Innovation.
Terwiesch notes that the program doesn't simply help executives uncover opportunities, though. "It is more than an idea generator. Obviously ideas are where innovation starts, but ideas have no value without execution. Innovation Tournaments shows participants how to select options based on their potential for top-line growth and how to move them through the development and design process. It's a real opportunity to transform your culture."
The hands-on program teaches tools and techniques for screening ideas, structuring the innovation funnel, designing and executing selected opportunities, and governing and organizing innovation. One pharmaceutical executive who worked with Terwiesch and Ulrich notes, "The process is brilliant. In particular the idea of brainstorming on your own and then sharing and sorting through those ideas with a group has been highly effective for us."
Terwiesch and Ulrich, authors of Innovation Tournaments: Creating and Selecting Exceptional Opportunities, have taught their method to thousands of executives and MBA students, and have led dozens of organizations in a wide range of industries including consumer packaged goods, pharmaceuticals, financial services, and high-technology, in becoming more innovative. Their teaching and research is grounded on a wealth of practical experience as innovators, product designers, and entrepreneurs. Ulrich says, "Innovation takes people, culture, and process. You need all three, but process is essential. It enables the building of the right culture and attracting the right people. You need to start with process."
About the Wharton School
Founded in 1881 as the first collegiate business school, the Wharton School of the University of Pennsylvania is recognized globally for intellectual leadership and ongoing innovation across every major discipline of business education. With a broad global community and one of the most published business school faculties, Wharton creates ongoing economic and social value around the world. The School has 5,000 undergraduate, MBA, executive MBA and doctoral students; more than 9,000 annual participants in executive education programs; and a powerful alumni network of 91,000 graduates.
Informed by in-depth academic research and extensive industry experience, Wharton Executive Education programs offer a supportive and challenging context from which participants gain the skills necessary for their next level of executive development. In open-enrollment and customized programs, participants from a diverse range of industries interact with Wharton faculty, who are one of the most cited, most published faculties of all top-tier business schools. With a profound influence on global business, Wharton faculty are the trusted advisors of corporations and governments worldwide.