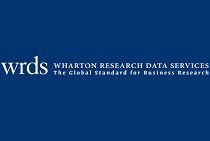 PHILADELPHIA–Wharton Research Data Services (WRDS), the leading comprehensive, internet-based data research service, is pleased to announce its partnership with Zacks Investment Research, Inc.
WRDS provides instant access to over 200 terabytes of data across Finance, Marketing, and Economic disciplines, making it the gold standard business intelligence tool for 30,000 users in 30 countries.
The addition of Zacks Investment Research is part of WRDS' commitment to meet the growing data needs of its worldwide client base. The Zacks database provides earnings, sales estimates, analyst ratings, price targets and recommendations, helping the global financial community construct consensus forecasts, earnings surprises and analyst track records, and much more.
"WRDS is pleased to be able to offer Zacks Investment Research to our users," said Robert Zarazowski, Senior Director of WRDS. "The Zacks database offers academic and empirical business researchers the ability to analyze historic patterns in analyst behavior and see connections between their actions, a company's performance and the market as a whole. It's an important addition WRDS' already extensive data offerings."
"Zacks is proud and honored to be a WRDS partner," said Ausra Di Raimondo, EVP of Academic/Non-Profit Data Services at Zacks. "This type of data plays a critical role in in-depth academic equity trading research and corporate analytics and back-testing strategies. We are excited to be recognized by WRDS as a valuable data partner in fulfilling its mission to continue to be the leading business intelligence tool for a global research community."
About WRDS and the Wharton School
Wharton Research Data Services (WRDS) is the leading, comprehensive, internet-based data research service used by academic, government, non-profit institutions, and corporate firms. Developed in 1993 to support faculty research at the Wharton School of the University of Pennsylvania, WRDS has since evolved to become the leading business intelligence tool for a global research community. http://www.whartonwrds.com
Founded in 1881 as the first collegiate business school, the Wharton School of the University of Pennsylvania is recognized globally for intellectual leadership and ongoing innovation across every major discipline of business education. With a broad global community and one of the most published business school faculties, Wharton creates ongoing economic and social value around the world. The School has 5,000 undergraduate, MBA, executive MBA and doctoral students; more than 9,000 annual participants in executive education programs; and a powerful alumni network of 91,000 graduates.
About Zacks
Zacks Investment Research, based in Chicago, Ill., has been a leading provider of research, market data, and quantitative models to institutional investment management firms in the US and Canada for over 30 years. Recognized for quality, consistency and reliability, Zacks provides institutional and individual investors with the analytical tools and financial information necessary to the success of their investment process. Founded in 1978, Zacks' early contribution to investment analysis was the discovery that earnings per share estimate revisions are the most powerful force affecting stock prices. This discovery is built into the Zacks Rank proprietary methodology for predicting stock price performance. The premier source of analysts' earnings forecasts, today Zacks produces data feeds for estimates, ratings, earnings report data, fundamental data, and institutional holdings for US and Canadian traded equities, as well as investment research reports and research software tools for investors. For more on Zacks expertise, look for Dr. Zacks "The Handbook of Equity Market Anomalies: Translating Market Inefficiencies into Effective Investment Strategies".