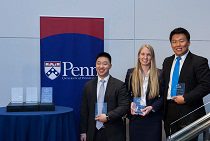 The "IDENTIFIED" Student Team Wins Rights to Commercialize their Application of Penn-Owned Robotic Technology
Philadelphia, PA—The University of Pennsylvania announced that student team IDENTIFIED won the $5,000 Grand Prize of the 2012 Y-Prize Competition (yprize.upenn.edu), which includes rights to commercialize their application of Penn-owned robotics technology. The prize was awarded on the University of Pennsylvania's campus at the first annual Y-Prize Grand Finale on February 4, 2013.
IDENTIFIED's proposal involves using robotics to improve the detection and clearance of improvised explosive devices, or IEDs. Such homemade bombs are often buried along roadways, making them difficult and dangerous to detect. The IDENTIFIED team, consisting of Kelsey Duncombe-Smith and Richard Zhang, undergraduate students in the School of Engineering and Applied Science, and Andy Wu, a doctoral candidate at Wharton, selected aerial robots developed by Engineering's GRASP lab as the basis for a technological solution to this problem.
The team proposes equipping the GRASP quadrotors with ground penetrating radar to identify IEDs, and a laser-based energy transmission system to extend their flight time. An IDENTIFIED-equipped vehicle could lead a convoy, sending a team of ground-scanning quadrotors ahead and keeping them aloft via an infrared laser mounted on its roof.  
Co-sponsored by Penn Engineering, the Weiss Tech House, the Center for Technology Transfer, and the Wharton School, the Y-Prize is a new competition in which student teams propose innovative commercial applications for technology invented by University of Pennsylvania researchers. In this inaugural year, the focal technology is robotics developed by Penn Engineering professors Daniel E. Koditschek, Vijay Kumar, and Mark Yim at Penn's General Robotics Automation Sensing and Perception (GRASP) laboratory. Professors Kumar and Yim are joined as co-organizers by David Hsu, Associate Professor of Management at the Wharton School and Associate Faculty Director of the Weiss Tech House, making the competition a true cross University collaboration.
The Grand Finale attracted over 150 industry professionals, faculty members, and students. The teams went head-to-head with ten-minute presentations and then fielded questions from a panel of judges consisting of leading industry figures and venture capitalists from firms like Osage, First Round Capital, and Boeing who evaluated the market potential and technical feasibility of each proposal.
About the Y-Prize
In a cross University collaboration, the University of Pennsylvania announces the Y-Prize competition, in which members of the Penn community compete to propose the best applications for an existing technological solution and compete to win $5000. The event is co-sponsored by the School of Engineering and Applied Science, the Mack Center at the Wharton School, the Center for Technology Transfer, the Weiss Tech House, Wharton Innovation Group, and supported in part by funding from the National Science Foundation. Corporate Sponsors include Lockheed Martin, SRI International, and First Round Capital. More information can be found at the Prize Website: http://yprize.upenn.edu
About the Wharton School
Founded in 1881 as the first collegiate business school, the Wharton School of the University of Pennsylvania is recognized globally for intellectual leadership and ongoing innovation across every major discipline of business education. With a broad global community and one of the most published business school faculties, Wharton creates economic and social value around the world. The School has 5,000 undergraduate, MBA, executive MBA, and doctoral students; more than 9,000 annual participants in executive education programs; and a powerful alumni network of 91,000 graduates.
About Penn's School of Engineering and Applied Science
For over 150 years, Penn Engineering's world-acclaimed faculty, state-of-the-art research laboratories and highly interdisciplinary curricula has offered a learning experience that is unparalleled. Undergraduate and graduate programs are offered in bioengineering, chemical and biomolecular engineering, computer and information science, computational biology, digital media design, electrical and systems engineering, networked and social systems engineering, materials science, mechanical engineering and applied mechanics, nanotechnology, robotics, and telecommunications. Engineering is also home to 14 research institutes and centers conducting innovative interdisciplinary research, epitomizing Penn founder Benjamin Franklin's idea of joining education and research for a practical purpose.
About the Weiss Tech House
The Weiss Tech House is a student-run hub of technological innovation at the University of Pennsylvania that encourages and supports students in the creation, development and commercialization of innovative technologies. Since 2003, students explore, collaborate and learn as part of our community of innovators. Here students can apply for space and funding in which to make their idea a reality or meet with successful inventors.   Among the resources students can access at the Weiss Tech House are labs in which to build their project, group meeting and study space, a computer lab, a student lounge, workshop series and a mentoring program.  Learn the full range of what this hub has to offer by visiting http://www.tech-house.upenn.edu/.
Media Contacts:
Peter Winicov
Wharton Communications
215-746-6471 or winicov@wharton.upenn.edu
Evan Lerner
Penn Communications
215-573-6604 or elerner@upenn.edu