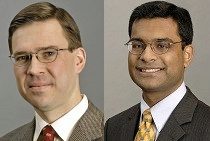 PHILADELPHIA — Wharton's Aresty Institute for Executive Education today announced a new global strategy program designed to help Indian executives navigate the complexities of growth in foreign markets.
Wharton Management Professors Witold Henisz and Saikat Chaudhuri, who have served as advisors to the Indian government, multinational corporations and to international organizations such as the World Bank, will provide cutting-edge knowledge of global markets and the leadership, diplomatic, and innovation challenges they present. Witold Henisz notes, "For many firms, growth in foreign markets is about waiting for opportunities. We show you how to grow proactively, thinking critically about where and how to enter cross-border markets and generating an intentional corporate development strategy."
Developing a Global Strategy, which will be held in Mumbai June 4-7, 2013, is designed for general management executives in multinational firms or in firms that aspire to become multinational. Participating executives will learn what it takes to operate successfully in a global business environment, expanding their mindset for growth beyond their companies' current success. The program first focuses on managing the inter-firm relationships that cross-border growth depends on, including navigating alliances and potential acquisitions with foreign partners and with networks of related firms. The focus then shifts to the external environment, building an understanding of the role of politics and NGOs as well as managing complex stakeholder relationships.
Developing a Global Strategy may be attended on its own or as part of Wharton's Accelerated Development Program (ADP). This certificate program for high-potential business leaders in India consists of three separate executive education experiences, including leadership, marketing, strategy, and finance options. ADP also goes beyond the classroom to help participants become more reflective and proactive in managing their careers by including personal coaching and professional assessments.
"We will help you understand growth across borders both organically and inorganically," notes Saikat Chaudhuri. "Start by locating sources of competitive advantage. Be strategic. Moving quickly into another market might not be your best option. Instead it might make more sense to consider a partnership; strategic alliances can be a highly effective growth strategy. But developing any strategy has to begin with knowledge of the markets and other players. Then you can apply the tools and frameworks we teach to create a corporate development strategy that will lead your firm successfully into global markets."
For more program information: http://executiveeducation.wharton.upenn.edu/open-enrollment/accelerated-development-program/developing-global-strategy.cfm
ABOUT THE WHARTON SCHOOL
Founded in 1881 as the first collegiate business school, the Wharton School of the University of Pennsylvania is recognized globally for intellectual leadership and ongoing innovation across every major discipline of business education. Informed by in-depth academic research and extensive industry experience, Wharton Executive Education programs offer a supportive and challenging context from which participants gain the skills necessary for their next level of executive development. In open-enrollment and customized programs, participants from a diverse range of industries interact with Wharton faculty, who are one of the most cited, most published faculties of all top-tier business schools. With a profound influence on global business, Wharton faculty are the trusted advisors of corporations and governments worldwide.