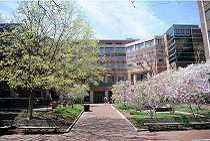 Chief Executive Officers of Mid-sized Firms to Engage, Connect at Wharton School's University of Pennsylvania Campus
PHILADELPHIA — Today, Wharton Executive Education announced that it will be the host of the 2013 CEO Connection Mid-Market Convention, which will be held Oct. 21 through Oct. 24, 2013, on the Wharton School's University of Pennsylvania campus.
The program, in partnership with CEO Connection, the world's only membership organization focused exclusively on mid-market CEOs, will bring together senior leaders of organizations that generate between $100 million and $3 billion in annual revenues.
"We're excited to bring such a critical group of leaders who are the engine of our economy to Wharton for world-class learning and networking tailored to their unique market needs," said Patti Parker, practice leader, Industry Associations, Wharton Executive Education. "Our goal is to give CEOs in mid-market corporations the opportunity to network, voice issues important to them, and polish their executive management and leadership skills."
The program kicks off with a two-day convention modeled after the World Economic Forum. CEOs will participate in interactive sessions covering a range of issues critical to their businesses as well as the greater society.
"We're bringing together the leadership of the mid market, along with academia and government, to address some of the most pressing economic and competitive issues affecting us, so we can have a positive impact on the economy and the world," said Kenneth Beck, a Wharton MBA alumnus and lifelong entrepreneur, who co-founded CEO Connection in 2005 to fill the gap in serving the needs of mid-market CEOs.
Following the convention, Wharton Executive Education will sponsor a two-day education program for mid-market CEOs. The program curriculum, taught by four management faculty from the Wharton School, will cover key topics such as global competitive strategy, leading across boundaries, capital allocation and alignment and leading change. The program also will feature a CEO panel discussion comprised of some the world's most successful leaders and innovators in the mid-market space.
According to CEO Connection, the mid-market contributes $5 trillion of the U.S. gross national product, and is responsible for more than 40 million jobs. Yet, their issues and needs are underrepresented in policy and economic discussions. Employing more than one-third of workers in the U.S. alone – in industries including services, manufacturing, wholesale, retail and construction – mid-market companies continue to add jobs and benefit the economy even through the recession.
To learn more about CEO Connection and to register the 2013 CEO Connection Mid-Market Convention, visit http://www.MidMarketConvention.com.
ABOUT THE WHARTON SCHOOL
Founded in 1881 as the first collegiate business school, the Wharton School of the University of Pennsylvania is recognized globally for intellectual leadership and ongoing innovation across every major discipline of business education. With a broad global community and one of the most published business school faculties, Wharton creates economic and social value around the world. The School has 5,000 undergraduate, MBA, executive MBA, and doctoral students; more than 9,000 annual participants in executive education programs; and a powerful alumni network of 91,000 graduates.
ABOUT CEO CONNECTION
CEO Connection is the only membership organization focused exclusively on CEOs of the mid-market. We connect thousands of mid-market CEOs and leaders with each other and to the people, information and resources which will help them succeed. We enable them to build mutually beneficial relationships with their peers and functional experts that they can carry with them throughout their careers. Members are C-level executives with responsibility for all or significant portions of their respective company. They represent a wide variety of business across a broad geographic spectrum. The average size of the companies they run is $1.8 billion in annual revenue and 7,600 employees. Through regular discussions and interactions with our active and vocal member base, we understand the wants, needs and points of view of this market and are uniquely positioned to represent the mid-market perspective. For more information, visit www.ceoconnection.com.