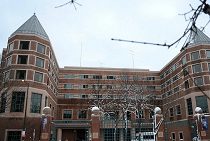 PHILADELPHIA– To meet the increasing demand of managers in need of a business basics primer, Wharton Executive Education has launched its newest program, Advancing Business Acumen. Led by Jack Hershey, Wharton Professor of Operations and Information Management, Advancing Business Acumen is specifically designed to introduce managers who have never been to business school to essential business concepts and provide the skills, vocabulary and confidence they need to succeed across all industries.
"There are a lot of capable managers out there who get promoted or take on a new role and then suddenly find themselves overwhelmed by all there is to know and understand," said Hershey. "Advancing Business Acumen provides the business basics they need, but also a foundation for future growth."
The program is unique in that the majority of Wharton Executive Education programs are aimed at senior-level executives. With Advancing Business Acumen, Wharton is offering foundational business education to managers or entrepreneurs who may never have previously considered attending the school.
Dubbed a business "quick-start" by Hershey, this six-day, intensive program May 19 – 24, uses a mix of interactive lectures, case studies, simulations, self-assessments, group discussions and faculty and peer dialogue to expose participants to the core concepts of business and to empower them to practically apply their new knowledge back at home. Advancing Business Acumen is intended to give participants valuable insight into topics such as leadership and decision making; managing people and talent; managing across boundaries and borders; building and sustaining competitive advantage; branding, marketing and advertising strategies and impact; and creating shareholder value.
Upon completion of the program, participants will have a deeper understanding of a variety of essential business concepts, an expanded business vocabulary, and the confidence needed to effectively communicate with colleagues and senior leaders.
For more program information: http://www.executiveeducation.wharton.upenn.edu/open-enrollment/strategy-management-programs/advancing-business-acumen.cfm
About the Wharton School
Founded in 1881 as the first collegiate business school, the Wharton School of the University of Pennsylvania is recognized globally for intellectual leadership and ongoing innovation across every major discipline of business education. With a broad global community and one of the most published business school faculties, Wharton creates economic and social value around the world. The School has 5,000 undergraduate, MBA, executive MBA, and doctoral students; more than 9,000 annual participants in executive education programs; and a powerful alumni network of 91,000 graduates.
Informed by in-depth academic research and extensive industry experience, Wharton Executive Education programs offer a supportive and challenging context from which participants gain the skills necessary for their next level of executive development. In open-enrollment and customized programs, participants from a diverse range of industries interact with Wharton faculty, who are one of the most cited, most published faculties of all top-tier business schools. With a profound influence on global business, Wharton faculty are the trusted advisors of corporations and governments worldwide.