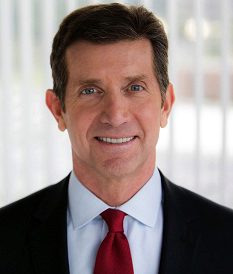 Philadelphia, PA — The Wharton School of the University of Pennsylvania has announced that Wharton MBA for Executives alumnus Alex Gorsky, Chairman of the Board and Chief Executive Officer, Johnson & Johnson, will be the featured speaker at the School's first-ever MBA for Executives graduation ceremony in Philadelphia.  The May 11, 2013, ceremony will take place at the Annenberg Center for Performing Arts, Zellerbach Theatre, 3680 Walnut Street, Philadelphia, PA.
"Alex Gorsky has exhibited great leadership abilities throughout his career, shepherding important innovations for the betterment of societies worldwide," Wharton Dean Thomas S. Robertson said.  "His focus, drive and commitment to making a difference exemplify for our graduating students what we hope for them as they apply their education to their careers."
Mr. Gorsky has held a series of roles of increasing responsibility since first joining Johnson & Johnson in 1988.  He assumed his current position in April 2012, becoming the seventh person to serve as Chairman and CEO of Johnson & Johnson since it became a publicly traded company in 1944.
In 2008 Mr. Gorsky re-joined Johnson & Johnson from Novartis Pharmaceuticals Corporation, where he was head of that company's pharmaceuticals business in North America.  In early 2009, he was appointed Worldwide Chairman of Johnson & Johnson's Surgical Care Group and was appointed to the Johnson & Johnson Executive Committee.  In September 2009, he was appointed Worldwide Chairman of the Medical Devices & Diagnostics segment.
In January 2011, Mr. Gorsky was named Vice Chairman of Johnson & Johnson's Executive Committee.   As Vice Chairman, Mr. Gorsky was responsible for Johnson & Johnson's Medical Devices & Diagnostics segment, the largest business of its kind in the world; the Johnson & Johnson Supply Chain, which includes a global network of 140 manufacturing facilities; the Company's Government Affairs & Policy Group; the Company's Health Care Compliance and Privacy Group; and the Johnson & Johnson Development Corporation, the Company's venture capital subsidiary.
A longtime advocate of diversity and inclusion, he was named the 2009 Mentor of the Year by the Healthcare Businesswomen's Association, an organization with which he has been involved for many years. Mr. Gorsky is the Executive Sponsor of two Johnson & Johnson employee resource groups, the Women's Leadership Initiative and the Veteran's Leadership Council.
He holds a Bachelor of Science degree from the U.S. Military Academy at West Point, N.Y.
Information about the University of Pennsylvania's 257th commencement ceremony is available at: www.upenn.edu/commencement.
About the Wharton MBA Program for Executives and the Wharton School
Founded in 1881 as the first collegiate business school, the Wharton School of the University of Pennsylvania is recognized globally for intellectual leadership and ongoing innovation across every major discipline of business education. With a broad global community and one of the most published business school faculties, Wharton creates economic and social value around the world. The School has 5,000 undergraduate, MBA, executive MBA, and doctoral students; more than 9,000 annual participants in executive education programs; and a powerful alumni network of 91,000 graduates.
Wharton MBA Program for Executives offers the same MBA degree, rigorous curriculum, top Wharton faculty and high level of students as the traditional MBA program on Wharton's main campus in Philadelphia. A residential program, students attend classes on alternate weekends and during two week-long sessions in the summer. Because Wharton students live and work together during focused on-site sessions, students have an opportunity to forge close connections with classmates as well as to foster teamwork skills. In addition, the integration of work and study provides a living laboratory for applying knowledge.