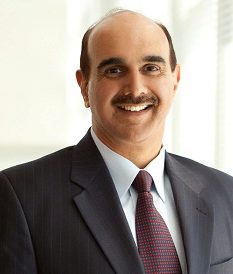 San Francisco, CA and Philadelphia, PA — The Wharton School of the University of Pennsylvania has announced that Inder Sidhu, Cisco Senior Vice President of Strategy for Worldwide Operations, will be the featured speaker at the School's 2013 graduation ceremony for the MBA Program for Executives at Wharton | San Francisco. The ceremony will take place May 5, 2013, at 3:00 p.m., at Marines' Memorial Theater, 609 Sutter Street, San Francisco, Calif.  Mr. Sidhu has spent nearly two decades with Cisco, a $47 billion worldwide leader in networking. He is also the author of "Doing Both: Capturing Today's Profit and Driving Tomorrow's Growth" (FT Press), which reached the New York Times best-seller list.
"Inder Sidhu is one of the world's most articulate voices on innovation and corporate growth, and we are pleased that he will address our San Francisco MBA graduates," Wharton Dean Thomas S. Robertson said. "He has dedicated his career to exploring and sharing with the public novel ideas for both individual and corporate reinvention and transformation."
From 2006-2010, Mr. Sidhu co-led Cisco's Emerging Countries Council, which drives business success in fast-growing geographies like China, India, Russia, Brazil, Mexico and the Middle East.  In 2010, Mr. Sidhu published his book, "Doing Both," in which he identifies common business dichotomies and explores how successful companies avoid difficult tradeoffs and instead achieve bigger outcomes by "doing both." Using this framework, he also offers a unique view of Cisco's consistent record of innovation and high performance.
Since joining Cisco in 1995, Mr. Sidhu has served in executive leadership positions in the Sales, Services, and Business Development organizations. He was the VP/GM Worldwide Professional Services, VP/GM Advanced Engineering Services, and VP Strategy and Business Development, Customer Advocacy.  Mr. Sidhu previously was with McKinsey & Company, a global management consulting firm.  He also has worked at Intel and Novell.
Mr. Sidhu is a graduate of the Advanced Management Program at Harvard Business School and holds an MBA from the Wharton School. He also holds a master's degree in Electrical & Computer Engineering from the University of Massachusetts, Amherst, and a bachelor's degree in Electrical Engineering from the Indian Institute of Technology, Delhi, India.  Mr. Sidhu serves on the Board of Directors of Goodwill of Silicon Valley.
Previous graduation speakers at Wharton | San Francisco have included Laurence M. Baer, Arthur Bilger (W'75), Jon Huntsman Jr. (C'87, HON'10), Ken Moelis (W'80, WG'81), Paul S. Otellini, David Pottruck (C'70, WG'72), Jon M. Huntsman Sr. and Carol Bartz.  Wharton established a campus in San Francisco due to the strong belief that business executives would be well served by the option to pursue a robust, full-curriculum Wharton MBA without the need to cross the United States. The School has graduated more than 800 students from its Wharton MBA Program for Executives in San Francisco and celebrated its 10th anniversary last year with a move to its new home at Hills Plaza.
Information about the University of Pennsylvania's 257th Commencement ceremony is available at www.upenn.edu/commencement.
About Wharton | San Francisco and the Wharton School
Wharton MBA Program for Executives in San Francisco was one of the first programs launched at Wharton | San Francisco, the School's campus in San Francisco. It offers the same MBA degree, rigorous curriculum, top Wharton faculty and high level of students as the traditional MBA program on Wharton's main campus in Philadelphia. A residential program, students attend classes on alternate weekends and during two week-long sessions in the summer. Because Wharton students live and work together during focused on-site sessions, students have an opportunity to forge close connections with classmates as well as to foster teamwork skills. In addition, the integration of work and study provides a living laboratory for applying knowledge.
Founded in 1881 as the first collegiate business school, the Wharton School of the University of Pennsylvania is recognized globally for intellectual leadership and ongoing innovation across every major discipline of business education. With a broad global community and one of the most published business school faculties, Wharton creates economic and social value around the world. The School has 5,000 undergraduate, MBA, executive MBA, and doctoral students; more than 9,000 annual participants in executive education programs; and a powerful alumni network of 91,000 graduates.