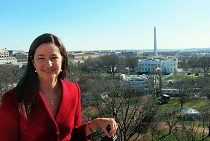 Philadelphia, PA — The Wharton School of the University of Pennsylvania is pleased to announce that Monica Medina has been named Executive Director of the Wharton Public Policy Initiative. Ms. Medina, who currently serves in the U.S. Department of Defense as Special Assistant to the Secretary of Defense, will be the first Executive Director of the Initiative. She will assume this Washington, DC-based position on April 12.
"The Wharton Public Policy Initiative will forge strong connections between Washington policymakers and our nation's oldest and most esteemed school of business – the University of Pennsylvania's Wharton School," said Penn President Amy Gutmann.  "By providing expert, nonpartisan research and disseminating knowledge, the WPPI will help government leaders and key decision makers make more informed decisions, particularly on issues relating to economics and business.  Having someone with the breadth of Monica Medina's experience as Executive Director of the WPPI will help ensure that the WPPI's impact is immediate and long-lasting."
Launched in September 2012, the Wharton Public Policy Initiative offers independent, practical, timely, nonpartisan research and resources to government policymakers and key decision-makers. Forging this strong connection between the University of Pennsylvania's Wharton School and Washington's policymakers, the Initiative seeks to bridge the intellectual divide that currently exists between policymakers and the business community.  In addition, the Initiative aims to expand opportunities for students to explore careers in public policy, and to engage alumni of Wharton and the University who are interested or involved in public policy.
"It is vital for business to understand government and for government to understand business. This Initiative will serve as a conduit to provide knowledge and analysis of important and timely issues to government and policy leaders. With offices on the Penn campus and in Washington DC, Wharton will provide the foundation for a new and productive dialog between policymakers and business executives. I am pleased to welcome Monica to Wharton. Her experience and enthusiasm for policy work will serve the Initiative well," said Thomas S. Robertson, Dean of the Wharton School.
Ms. Medina, as the Executive Director, will be a key leader for pursuing these goals and strategically developing the Initiative's presence in Washington, DC.  She brings to this role a long career of public service and a wealth of experience in DC, in capacities spanning the government, business, non-profits, and the law.  "I am thrilled to join the Wharton team, and look forward to bringing all that the faculty, students and alumni have to offer to help policymakers in Washington address today's most pressing challenges," said Medina.
"Monica brings to the Wharton Public Policy Initiative both incredible breadth and depth of experience in the federal government.  As a result, she will be able to advance the mission of the Initiative on many different fronts.  Besides giving research by our faculty greater visibility among policymakers, Monica's commitment to the Initiative will yield tremendous benefits for students.  She will be instrumental in bringing government leaders and other public policy professionals to campus for guest lectures, developing new summer internships for undergraduate and graduate students in DC, and more generally, expanding students' appreciation of the impact of government policy on key sectors of the economy," said Professor Mark Duggan, Faculty Director of the Initiative.
During her tenure at the U.S. Department of Defense, Ms. Medina has been a principal advisor on all defense policy matters involving personnel, energy and environmental issues, including veterans' employment and transition to civilian life, military health care and health care IT, women in the military, the repeal of "Don't Ask Don't Tell," as well as energy policy, real estate matters, installation management, response to natural disasters such as Hurricane Sandy, and adaptation to climate change.  She has travelled with the Secretary on diplomatic visits to Japan, China, New Zealand, and Afghanistan.
Previously, Ms. Medina was the Principal Deputy Undersecretary for Oceans and Atmosphere and Principal Deputy Administrator of the National Oceanic and Atmospheric Administration at the Department of Commerce.  In that position, she advised Secretary Gary Locke and Acting Secretary Rebecca Blank on issues such as climate change, satellite procurement, ports and infrastructure modernization, oil and gas development, cleanup of the Gulf of Mexico following the Deepwater Horizon oil spill, development in the Arctic, and tourism.  Prior to joining the Obama Administration, Ms. Medina served as a Senior Officer in the Pew Environment Group and she opened the U.S. office of the International Fund for Animal Welfare.  Ms. Medina also served as a Deputy General Counsel at Fannie Mae, where she managed the Board of Directors and worked extensively with the Business Roundtable.
From 1992 through 1999, Ms. Medina held a number of positions in the Clinton Administration at the Justice and Commerce Departments, and on Capitol Hill, where she worked for Senator Max Baucus.
Ms. Medina is an honors graduate of the Columbia Law School and Georgetown University.  She began her career on active duty in the U.S. Army, having received an Army R.O.T.C. scholarship to attend college.
About the Wharton School
Founded in 1881 as the first collegiate business school, the Wharton School of the University of Pennsylvania is recognized globally for intellectual leadership and ongoing innovation across every major discipline of business education. With a broad global community and one of the most published business school faculties, Wharton creates economic and social value around the world. The School has 5,000 undergraduate, MBA, executive MBA, and doctoral students; more than 9,000 annual participants in executive education programs; and a powerful alumni network of 91,000 graduates.