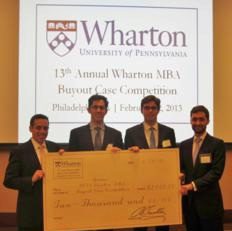 23 teams of MBA students analyzed an investment opportunity in Staples for senior Private Equity professionals. A team from The Wharton School placed in 1st, with teams from University of Chicago Booth School of Business and Columbia Business School in 2nd and 3rd, respectively
Philadelphia, PA — The 13th Annual Wharton MBA Buyout Case Competition was held February 22nd at The University of Pennsylvania's Wharton School campus in Philadelphia. Sponsored by the Wharton MBA student Private Equity & Venture Capital Club, it is the premier and largest MBA-level leveraged buyout (LBO) case competition in the world, with 23 teams from 16 MBA programs attending. Students were given only 5 days to analyze Staples, Inc. and prepare a 30 minute presentation in front of senior professionals from the private equity industry.
A team from The Wharton School won the top prize with its recommendation to buy Staples at approximately $15.50 per share. Team members included 1st-year MBA students Rick Aubrey, Eric Klein, Zack Peckham and Mark Turner. The Wharton team emphasized the Company's cash flow characteristics, its position as the #2 online retailer, deep management team and attractive valuation. Additionally, they suggested an increased focus on B2B, retrenching the International business, and rolling-up regional distribution businesses.
The University of Chicago Booth School of Business (Jon Alexander, Steve Southwick, Jo Trahms, Mike Velcich, and Ethan Wang) came in second, with Columbia Business School (Conner Esworthy, Doug Musicaro, Jake Olson, Logan Unland) placing in third.
The Competition attracts students from around the world. In addition to 7 of the top 10 MBA programs in the United States, leading programs in the UK and Canada were in attendance. Programs from the United States were Brigham Young University, Cornell University, Dartmouth College, New York University, Northwestern University, University of California – Berkeley, UCLA, University of North Carolina, and the University of Virginia. International programs included University of Cambridge, University of Oxford, University of Manchester and the University of Toronto. Including preliminary intra-school competitions, an estimated 250 students competed.
John Roth, President and COO of private equity firm Freeman Spogli, said, "Wharton's annual buyout case competition is a great forum for MBA students from around the globe to advance their understanding of the private equity investment process using real companies and real data in a timely setting. I enjoyed judging a diverse group of thoughtful presentations." Other judges included Sam Eskildsen of McKinney Capital, David Helgerson and Jay Rosenberger of Hamilton Lane, Michael Greenman of Harvest Partners, Damien Gresko of Graham Partners, Sam Judd of PNY Technologies, Shivan Patel of Veritas Capital, and James Weiss of JBW Advisory.
This year, the competition was particularly timely. Students received the case only a few days before the company's two biggest competitors, Office Depot and OfficeMax, announced a merger that, if completed, would transform the office product retail industry. Staples has itself been subject to numerous buyout rumors recently.
"In addition to the practical experience of analyzing a company and receiving feedback from senior industry professionals, the Competition provides a unique opportunity for PE-focused MBA students from around the world to meet and learn from each other, " said Mark Spatt, a second-year Wharton MBA student and Chair of the Buyout Competition. A number of receptions surrounded the actual competition to provide networking opportunities.
In 2012, a team from University of Chicago won the first prize, with Brigham Young University in second and Northwestern University in third.
About the Wharton School
Founded in 1881 as the first collegiate business school, the Wharton School of the University of Pennsylvania is recognized globally for intellectual leadership and ongoing innovation across every major discipline of business education. With a broad global community and one of the most published business school faculties, Wharton creates economic and social value around the world. The School has 5,000undergraduate, MBA, executive MBA, and doctoral students; more than 9,000 annual participants in executive education programs; and a powerful alumni network of 91,000 graduates.