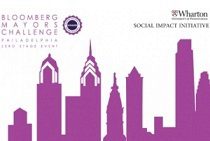 A group of Wharton students and faculty recently helped Philadelphia receive a million dollars.
As one of five winners in the Bloomberg Mayors Challenge, the Wharton Social Impact Initiative helped to design the Philadelphia Social Enterprise Partnership, a proposal that will stimulate creative ideas to improve city life and address some of its biggest issues like poverty, housing and education.
The Mayors Challenge is the latest initiative of Bloomberg Philanthropies' Mayors Project, which aims to spread proven and promising ideas among cities.
The proposal was selected for its novel approach to reforming city procurement processes, a key obstacle to innovation in local government.
The Philadelphia Social Enterprise Partnership allows entrepreneurs and social innovators to respond to requests for proposals and help generate solutions to the most pressing problems in the city.
According to Philadelphia Mayor Michael Nutter's original note in The Huffington Post, the proposal has three core elements:
• Reframing the city's challenges as opportunities for innovators.
• Bringing the best ideas to Philadelphia to be cultivated with city government at the table.
• Creating a system allowing city government to serve as the testing ground for these new solutions.
Each year, the Philadelphia Social Enterprise Partnership plans to work with the city to address urban challenges.
"The Wharton Social Impact Initiative saw the Bloomberg project as an optimal way to 'pilot test' our thinking about social impact in our home city, a commitment that undergirds our work with the Netter Center for Community Partnerships and others," says Jacob Gray, senior director of the Initiative. "We wanted to create impact at scale, engage rigorous systems analysis, forge multi-year partnerships with large and influential organizations, embrace private-sector principles and provide impact-sector subject matter expertise."
"Most of the Bloomberg money will get used to pilot-test and launch innovative solutions, either as initial contracts or start-up investments," Gray explains.  "We expect to get at least 10 times that in economic activity in the impact sector out of Bloomberg's seed funding and at least 60 percent will go to local job growth."
So far, the project has involved two undergraduate students and three graduate students from Wharton, as well as Vice Dean Katherine Klein, Sherryl Kuhlman and Gray.  But, they're looking to grow.
The next step for the Initiative is to work on implementing the plan and spreading the word, Gray says, starting with a "Zero Stage" campus event open to everyone in the Penn community on April 12 from 10 a.m. to 4 p.m. at 3401 Walnut St., on the 8th floor.  Penn students, faculty and staff are invited, but registration is required:  mayorschallengephl.nubook.com/#/register.
"Zero Stage" is an intensive workshop focused on identifying problems and designing systems.  More than 40 Wharton students and other graduate students from across the University will meet with nearly 20 industry leaders across private, public and social sectors, including venture capitalists and entrepreneurs.
Attendees will include Nutter; the city's chief data officer, Mark Headd; Donna Greenwood from the Knight Foundation; and Michael Burcham, a White House Champion of Change.
"In five years, we can realistically expect this project to result in 100 innovative social-impact startup coming to Philadelphia," Gray says. "Think of 100 companies like WashCycle Laundry, ElectNext, PublicStuff or One Degree Solar, all of which came through earlier versions of this project with GoodCompany.  Based on our experience, we'd get about 100 companies and more than 1,000 millenials in the city and a bare minimum of $120 million in private investment dollars leveraged," Gray says.
"Philadelphia can become a national hub of social entrepreneurship," he adds.  "And Wharton will have been proud to be a key to a blossoming of so many smarter, more effective solutions with an intentional focus to improve people's lives, especially for those who are most vulnerable."
The other $1 million winners were Chicago, Houston and Santa Monica, Calif.  Providence, R.I., walked away with $5 million.
(View the original release on Penn News)