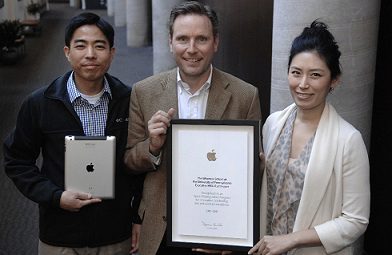 PHILADELPHIA – The Wharton School of the University of Pennsylvania is pleased to announce that its Wharton Executive MBA iPad initiative has been named an Apple Distinguished Program for 2012-2013, recognizing Wharton's "iPad Project" which leverages iPad to complement and support the learning experiences of students.
The Apple Distinguished Program designation is reserved for programs that meet criteria for innovation, leadership, and educational excellence and demonstrate a clear vision of exemplary learning environments.
The selection of the Wharton Executive MBA iPad Project as an Apple Distinguished Program highlights its success in enhancing and extending teaching and learning with the thoughtful and innovative implementations of technology.  With campuses in Philadelphia and San Francisco, the Wharton Executive MBA program draws students from across the U.S. and as far away as Europe and China, making the program ideally suited for the extensive use of iPad. Because of the mobility and durability of iPad, students no longer need to travel with stacks of books as their Wharton-branded iPads contain all of their course materials and ultrafast access to the over 300,000 apps designed specifically for iPad.  In fact, over 95% of Wharton Executive MBA students opt to access their class materials exclusively on iPad. Increased collaboration, both in person and across time zones, is accomplished by using a number of apps pre-installed on the students' iPads. Wharton's San Francisco campus has been designed to encourage students to meet and collaborate using iPad in specially configured study areas.
Each iPad in the program is fully integrated into the learning experience for each class. Full technical assistance is provided, along with a suite of Wharton Computing developed applications that students can download from the Wharton App Store. Professors appreciate that their students are able to interact with course materials on-the-go, even updating them in realtime, and without the barrier of some more traditional technologies that were once a hallmark of classroom based education.
"We are pleased that the Apple Distinguished Program recognizes Wharton's commitment to innovation," said Dan Alig, Wharton's Chief Information Officer.  "At Wharton, our goal is to ensure that technology supports the learning process in ways that we believe are one step ahead of our stakeholders' expectations. Apple's distinction is a welcome acknowledgement of our efforts."
About Wharton Computing and the Wharton School
Wharton Computing provides the technology, resources and networked environment to sustain the Wharton School's unparalleled scale, innovation, and collaborative approach to business research and education. Every member of Wharton Computing's 125 person staff is committed to our four-part mission:
Support research
Impact teaching and learning
Protect Wharton's intellectual property and reputation
Help run the business of the school
Wharton Computing's extensive systems, infrastructure, services, and applications are designed to meet the needs of Wharton's broad and dynamic community – faculty, students, alumni, and external constituents – while providing the reliability and security required for an academic institution of Wharton's scope and global stature.
Founded in 1881 as the first collegiate business school, the Wharton School of the University of Pennsylvania is recognized globally for intellectual leadership and ongoing innovation across every major discipline of business education. With a broad global community and one of the most published business school faculties, Wharton creates economic and social value around the world. The School has 5,000 undergraduate, MBA, executive MBA, and doctoral students; more than 9,000 annual participants in executive education programs; and a powerful alumni network of 91,000 graduates.