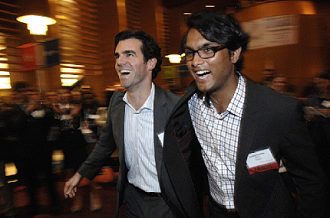 PHILADELPHIA, Pa.–The Wharton School of the University of Pennsylvania announced that student team ZenKars won the $30,000 Perlman Prize at the 2013 Wharton Business Plan Competition (BPC). The prize was awarded at the Wharton School's 15th Annual Venture Finals on April 24, 2013 where student finalists received more than $115,000 in combined cash prizes and in-kind legal/accounting services.
ZenKars, which also received the Wharton BPC's "Committee's Choice Award," is an online retailer of used cars targeting a $600 billion market.  Jean-Mathieu (Jim) Chabas and Venkat Jonnala, co-founders and second year MBA students, have created an online model connecting used cars from corporate directly to consumers.  Their "peaceful buying experience" for the buyer offers competitive prices, detailed vehicle information, convenience and warranties.
The ZenKars co-founders met last summer on Facebook while looking for roommates in Philadelphia.  They eventually found themselves batting entrepreneurial ideas around and landed on what has become ZenKars which was soon accepted into the DreamIt Ventures accelerator, from whom they received additional seed funding.
The Venture Finals, which is the year-long Wharton BPC's culminating event, attracted nearly 300 venture capitalists, business leaders, faculty members, and students.  This year 140 concepts were submitted for the competitive phase of the Wharton BPC.  While the Venture Finals judges deliberated over the top three prizes, the "Great Eight" Finalist teams competed for the Michelson "People's Choice Award," which allowed the audience of hundreds to vote on their favorite elevator pitch. This year the crowd favorite was MacuLens whose eyeglass lens technology helps reduce the glare of high intensity auto headlights. MacuLens also won the Venture Finals second place award of $15,000.
The 2013 Wharton Business Plan Competition winners are:
Perlman Grand Prize: $30,000 to ZenKars
Second Prize: $15,000 to MacuLens
Third Prize: $10,000 to Top Trender
Gloeckner Undergraduate Award: $10,000 for the highest ranking Wharton undergraduate team to AlphaX
People's Choice Award: $3,000 to MacuLens
Committee Award (Social): $1,000 to Trust Circle
Committee Award (Disruptive): $1,000 to Top Trender
Committee Award (Committee's Choice): $1,000 to ZenKars
Both ZenKars and MacuLens are members the Wharton Venture Initiation Program incubator. MacuLens is also a recipient of a Wharton Venture Award which provides a $10,000 grant to allow startups to work full-time on a venture over the summer.
Additional prizes granted at the Venture Finals were the three $1,000 awards (Social, Disruptive and Committee's Choice) given by the student management committee of the Wharton BPC. From the semi-finalist submissions the committee awarded its prize to Trust Circle – the team they think has the greatest likelihood of generating substantial impact by addressing, and subsequently disrupting, a pressing social issue.  The Committee chose Top Trender as the most disruptive plan.
The 2012-2013 Wharton BPC saw considerable changes to Phase I, the non-competitive phase of the competition.  New this year "IdeaScale" was introduced, which not only permitted students to submit multiple business concepts, but also allowed them to view and provide feedback on each other's submissions, resulting in a truly collaborative platform for participants to evaluate their ideas.  This year almost 200 ideas were submitted from over 100 students.
Wharton Entrepreneurship is happy to announce a $1.65M gift from Ellen Hanson Perlman and Richard E. Perlman (W'68), which will provide continuing funding in perpetuity for support of the Wharton BPC and name the Perlman Prize, The Perlman Prize.
Wharton Entrepreneurship is also thankful for the support from all of the sponsors of the 2012-13 Wharton BPC, including the Michelson Medical Research Foundation Inc; Digital Catalyst Fund; FOUNDER.org; and MentorTech Ventures.  Also appreciated are in-kind sponsorship from law firms Morgan, Lewis & Bockius, Duane Morris LLP and Blank Rome LLP; and accounting/strategy firms Ernst & Young, Grant Thornton and KPMG.
Over the years, the Wharton Business Plan Competition, which is open to any University of Pennsylvania student and managed by Wharton Entrepreneurship, has seen numerous student teams go on to become successful businesses. Last year's grand prize winner, RightCare Solutions, closed a series A round in October. Winners from the 2010-2011 Competition, Stylitics and baby.com.br, have closed various funding rounds and received extensive media coverage. A notable semi-finalist from the 2009 Competition is Warby Parker, which continues to disrupt the eyeglass industry with their discount fashion brand that donates a pair of glasses to someone in need for every pair sold. PetPlan USA, BuySafe and Innova Dynamics have also gone on to great success, building upon foundations laid through participation in the Wharton Business Plan Competition.
About the Wharton School and Wharton Entrepreneurship
In 1973, The Wharton School became the first school to develop a fully integrated curriculum of entrepreneurial studies. Today Wharton, through Wharton Entrepreneurship (http://entrepreneurship.wharton.upenn.edu/), supports and seeds innovation and entrepreneurship globally through teaching, research and outreach to a range of organizations through its many programs, initiatives and research centers. At the same time, Wharton students and alumni are helping to build entrepreneurial enterprises around the world and impacting virtually every industry.
The Wharton School of the University of Pennsylvania — founded in 1881 as the first collegiate business school — is recognized globally for intellectual leadership and ongoing innovation across every major discipline of business education. The most comprehensive source of business knowledge in the world, Wharton bridges research and practice through its broad engagement with the global business community. The School has 5,000 undergraduate, MBA, executive MBA, and doctoral students; more than 9,000 annual participants in executive education programs; and an alumni network of 91,000 graduates. For more information on the Wharton Business Plan Competition, go to: http://bpc.wharton.upenn.edu.