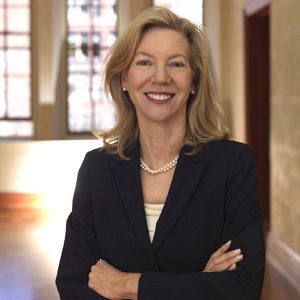 University of Pennsylvania President Amy Gutmann will visit Tokyo to meet with Wharton alumni at its Global Alumni Forum, presenting a keynote address on May 24 at 9:30 a.m. at the Palace Hotel.
Dr. Gutmann will address the value of higher education and speak on Penn's recent entry into the world of massive open online courses, called MOOCs, in her address, "Maximizing Returns: The Enduring Value and Bold Future of Higher Education."
"Online learning is a bold experiment in higher education," said Gutmann. "MOOCs [massive open online courses] are increasing access to education and have the potential to touch underserved populations in new ways. The University of Pennsylvania is proud to be among those leading the way in this new venture."
As one of 12 schools at the University of Pennsylvania, the Wharton School is holding two Global Forums in 2013. The Tokyo Forum will provide Wharton alumni with an opportunity to discuss and learn about today's most pressing issues with some of the best minds in business—including Wharton faculty members, industry leaders and fellow Wharton graduates.
Keisuke Muratsu, WG'75 serves as Chairman of this year's Forum, which has the theme of "Vitalization." Wharton is also honored to have Yotaro Kobayashi, WG'58 serve as Honorary Chairman. Kobayashi-san has supported Japan, Fuji Xerox and Wharton in many capacities since his graduation over fifty years ago.
Featuring keynote speeches, master classes, and dynamic conversations with some of the world's most intriguing industry specialists, the Forum's content is shaped to meet alumni interests and needs. Wharton alumni worldwide are welcome to attend the Forum. More information on the Forum is available here:http://www.whartontokyo13.com/tokyo/default.aspx
Japan is home to one of Penn's largest alumni networks, with more than 2,000 alumni living there, many in Tokyo. More than 60 percent of Penn's international students are from Asia, and approximately 15,000 Penn alumni currently live in the region.