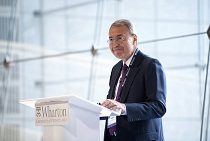 Philadelphia, PA — The Wharton School of the University of Pennsylvania is pleased to announce the appointment of William L. Mack as Chair of the Board of Overseers. Mack is Founder and Chairman of AREA Property Partners, a global real estate and asset manager with offices in the U.S. and in key economic centers around the world. He began a three-year term as Chair on April 19, 2013.
"It is an honor for the Wharton School to have a leader of Bill Mack's caliber as the Chair of our Board of Overseers," said Wharton School Dean Thomas S. Robertson. "Bill has been a devoted volunteer and supporter of the School for decades, and in this new role he brings with him a wisdom and vision that will help Wharton to continue its forward momentum as a pioneer in business education."
Mack has been a member of Wharton's Board of Overseers since 1998, and had served as Vice Chair since 2009. He was formerly a member and Chair of the Wharton Undergraduate Executive Board, and is also on the Samuel Zell and Robert Lurie Real Estate Center Advisory Board, a position he has held since 1994. In recognition of his leadership, Mack was elected to the University of Pennsylvania Board of Trustees in1997, and he is former Vice Chair of the Board.
Mack and his wife, Phyllis, are longtime philanthropic supporters of both the School and the University. They established the William and Phyllis Mack Center for Technological Innovation, a major research entity that provides guidance on managing the risks and rewards of technological innovations that offer new value to customers and firms. The Macks have also provided funds for the Zell/Lurie Real Estate Center, the William L. Mack Plaza, and undergraduate financial aid, as well as an endowed professorship at Wharton.
A member of the Wharton School's Class of 1961, Mack and his family have strong Penn connections. His son Richard Jay Mack received his undergraduate degree from Wharton in 1989 and son Stephen Fredric Mack obtained a B.A. from the School of Arts and Sciences in 1994. Additionally, Richard Mack currently serves on Wharton's Undergraduate Executive Board.
With more than 50 years of experience, Mack has been a trailblazer for the real estate industry, helping to build it up into the multi-billion dollar enterprise that it is today. In 1993, he established Apollo Real Estate Advisors, now AREA Property Partners. He is also Senior Partner of the Mack Organization, which owns industrial buildings and other income producing real estate investments across the U.S., and Chairman of the Board of Directors for the Mack-Cali Realty Corporation.  In recognition of his extensive leadership as a businessman and philanthropist, Mack was honored with the Joseph Wharton Award for Lifetime Achievement in 2008.  He was also awarded the Dean's Medal—the Wharton School's highest honor bestowed to leaders in private enterprise, public service, and academia—in 2009.
Mack replaces longtime Wharton Overseer, Jon M. Huntsman, Sr., who stepped down as the Board's Chair. Huntsman, Founder and Executive Chairman of the Huntsman Corporation, received his undergraduate degree from Wharton in 1959 and an honorary degree from Penn in 1996.  Robert M. Levy, Chairman, Partner, and Chief Investment Officer at Harris Associates, L.P., based in Chicago, will continue his role as Vice Chair of the Board.  He received his MBA from the School in 1974.
About the Wharton Executive Boards
The Wharton School has six Executive Boards, including the Board of Overseers, the Graduate Executive Board, the Undergraduate Executive Board, and the Executive Boards for Europe, the Middle East and Africa; Asia; and Latin America. The boards are comprised of a remarkable network of distinguished professionals who offer their vision and expertise to the School.
About the Wharton School
Founded in 1881 as the first collegiate business school, the Wharton School of the University of Pennsylvania is recognized globally for intellectual leadership and ongoing innovation across every major discipline of business education. With a broad global community and one of the most published business school faculties, Wharton creates ongoing economic and social value around the world. The School has 5,000 undergraduate, MBA, executive MBA, and doctoral students; more than 9,000 annual participants in executive education programs; and a powerful alumni network of 91,000 graduates.