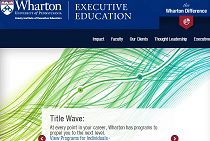 Redesigned Website's Enhanced Navigation and Search Features Make it Easier for Current and Future C-Level Executives to Find Relevant Program Content
[feather_share]
PHILADELPHIA — The Wharton School's Aresty Institute of Executive Education has unveiled a redesigned website that enables current and future C-level executives to more quickly find the most relevant program content.  This is Wharton Executive Education's first website redesign in six years.
With more than 9,000 executives from organizations worldwide traveling to Wharton annually to attend executive education programs, the site, (http://www.execed.wharton.upenn.edu), is designed to showcase Wharton's faculty, as well as its extensive educational programs for business executives.
More than 500 pages worth of content were moved from the old website, and 90 digital assets added, including new videos. The new site, which was designed by Boston-based ISITE Design, has responsive design that will provide website visitors with an optimal viewing experience across a wide range of devices.
The new website features three main sections:
The Wharton Difference – offers an overview of the Wharton School, which includes Wharton's 225+ faculty and 20 research centers and initiatives.  A new "Thought Leadership" section spotlights the innovative thinking and latest research of Wharton's faculty, and includes links to Knowledge@Wharton, Wharton's online research and analysis journal, and Wharton@Work, Wharton Executive Education's monthly management insights e-newsletter.
For Individuals – includes a diverse mix of open enrollment programs for mid-level to senior executives. A new search feature called the "Program Quick Finder," lets users find Wharton programs by key word, topic, date or program duration.
For Organizations  – details Wharton's approach to designing customized programs and features a new "Situational Assessment" tool, which enables organizations to quickly navigate to the industry focus relevant to them, from financial and professional services to public sector and government. In addition to 14 industry pages, a new Executive Capabilities section allows companies and organizations to become better acquainted with Wharton's expertise in the following areas: Leadership Development, Innovation and Customer Centricity, Finance & Value Creation, Marketing & Sales, and Strategy & Management.
ABOUT THE WHARTON SCHOOL
Founded in 1881 as the first collegiate business school, the Wharton School of the University of Pennsylvania is recognized globally for intellectual leadership and ongoing innovation across every major discipline of business education. With a broad global community and one of the most published business school faculties, Wharton creates ongoing economic and social value around the world. The School has 5,000 undergraduate, MBA, executive MBA and doctoral students; more than 9,000 annual participants in executive education programs; and a powerful alumni network of more than 92,000 graduates