[feather_share]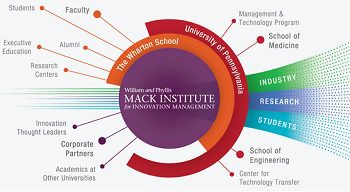 Philadelphia, PA—The Wharton School of the University of Pennsylvania is pleased to announce a major gift from William L. and Phyllis Mack to permanently endow the Mack Institute for Innovation Management. William L. Mack, W'61, is Chair of the Wharton Board of Overseers, Chairman of the Board of Directors of Mack-Cali Realty Corporation—a publicly traded REIT that owns and operates a portfolio of Class A office and office/flex buildings located in the northeast United States—and was the Founder and Chairman of AREA Property Partners—a global real estate and asset manager.
The Mack Institute for Innovation Management is a learning network and community that connects business leaders, researchers, faculty, and students. Led by world-renowned Wharton faculty George Day, Geoffrey T. Boisi Professor and Professor of Marketing; Harbir Singh, Mack Professor of Management and Vice Dean of Global Initiatives; and Nicolaj Siggelkow, David M. Knott Professor, and supported by distinguished, multidisciplinary Wharton School faculty, the Institute's mission is to develop and share research-based knowledge in the field of innovation management. Insights from Mack Institute–sponsored research help provide guidance that supports decision-makers across industries as they manage the risks and rewards of innovation.
"Bill and Phyllis Mack are great champions for the Wharton School and the University of Pennsylvania," said Penn President Amy Gutmann. "This generous new contribution will allow the Mack Institute to continue its growth and development as an incubator for research and education in innovation management. Penn is proud to be home to this premier resource for cutting-edge knowledge."
"Wharton is honored to have Bill and Phyllis Mack as partners in advancing innovation management research and education at the School," said Wharton Dean Thomas S. Robertson. "The multidisciplinary nature of the Institute enables leading minds in various fields to work together. The resulting insights are unparalleled in their research and potential for the diffusion of emerging technologies."
The Mack Institute builds upon the many successful contributions to industry and academia of the William and Phyllis Mack Center for Technological Innovation, established by the Macks in 2001. The Institute will offer expanded programs for students; enhance the University's capability to commercialize Penn-owned innovations through initiatives such as the annual Y-Prize student competition; increase opportunities to conduct and disseminate cutting-edge research; foster intercollegiate cooperation and collaboration; and advance a broad range of outreach initiatives to focus attention on innovation management. Saikat Chaudhuri, Adjunct Associate Professor of Management, will serve as the Institute's Executive Director.
"This generous gift from the Macks will allow us to expand our reach and impact within the University, across the United States, and throughout the world, which is vital because innovation affects all industries, from health care to engineering to government," said George Day, Mack Institute Co-Director. "As a Center, and now an Institute, we collaborate with a select group of industry partners who represent a wide range of industries, including aerospace, defense, pharmaceuticals, and data solutions. Our partners provide support and keep us connected to the fast-changing demands of practice in global markets. The diverse perspectives of our partners, and the key questions they encounter, help drive the Mack Institute's research agenda."
The Macks are longtime supporters of the Wharton School and the University of Pennsylvania. In addition to funding the creation of the Mack Center and its transition to the Mack Institute, they have also provided backing for the Zell/Lurie Real Estate Center, the William L. Mack Plaza, undergraduate financial aid, and an endowed professorship at Wharton.
William Mack said, "Phyllis and I are happy to be able to fund the Mack Institute at the Wharton School. It is a blessing to be able to see the benefits derived from our gift. The Institute will build on the work begun by the Mack Center and will become the leading innovation management institute, working closely with industry, faculty, and students to help develop the current and future leaders of innovation management."
# # #
About the Mack Institute
Emerging technologies and innovations can create and transform industries, while simultaneously introducing new risks and uncertainty to established organizations.
The Mack Institute for Innovation Management is an exclusive network that connects business leaders, researchers, world-class Wharton faculty, and students. At the Institute, thought leaders from across academic disciplines and industries come together to explore how companies survive, compete, and thrive through innovation management. The Institute's multidisciplinary faculty and researchers develop practical approaches to managing innovation and share this knowledge through thought-provoking conferences, workshops, and publications.
About the Wharton School
Founded in 1881 as the first collegiate business school, the Wharton School of the University of Pennsylvania is recognized globally for intellectual leadership and ongoing innovation across every major discipline of business education. With a broad global community and one of the most published business school faculties, Wharton creates ongoing economic and social value around the world. The School has 5,000 undergraduate, MBA, executive MBA, and doctoral students; more than 9,000 annual participants in executive education programs; and a powerful alumni network of more than 92,000 graduates.