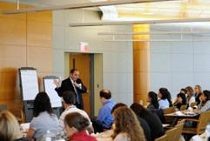 [feather_share]
Three reporters will receive opportunity to attend Oct. 13-16 Philadelphia program with nearly all expenses paid.
Philadelphia, PA– What: The Wharton School is pleased to announce the new Penn Wharton Public Policy Scholarship which will allow three business journalists whose reporting highlights public policy issues either domestically or internationally to attend the Wharton Seminars for Business Journalists flagship program in Philadelphia this year. Each scholarship covers the cost of tuition, course materials, most group meals, lodging for three nights and airfare within the US (where appropriate). In addition, accepted journalists may request private, one-on-one meetings with faculty members of the Penn Wharton Public Policy Initiative. The scholarship does not cover any other expenses. Other restrictions may apply.
The Wharton Seminars for Business Journalists, now in its 45th year, offers participants an opportunity to expand their business knowledge and increase their exposure to leading experts in a stimulating environment. Through intensive lectures and hands-on exercises, the program, led by the Wharton School's most prominent professors, helps participants gain a better understanding of key business and economic issues. Besides the Penn Wharton Public Policy Scholarship, numerous other financial aid options are available for reporters interested in attending the Seminars. To learn more visit the Seminars financial aid page.
Program Benefits: Today's global economy requires a strong foundation in business and economic knowledge for business journalists. At the Wharton Seminars for Business Journalists, participants:
Gain an in-depth understanding of business strategy fundamentals from senior    Wharton faculty members including Profs. Jeremy Siegel, Susan Wachter, Michael Useem, Jennifer Blouin and Brian Bushee
Interact with colleagues from some of the world's leading business news  organizations
Will receive a Wharton School Certificate of Completion
Who: In recent years, reporters have come from media outlets such as the New York Times, Nikkei, Wall Street Journal, CNBC India, Reuters, Fortune, Financial Times, CNN, Les Echos, Marketplace, Bloomberg and the Washington Post.
Deadline: Scholarship quantities are limited. Early applications are strongly suggested with a final deadline of September 6, 2013. Non-scholarship applications are due by October 1, 2013.
Learn more: For complete information on the Wharton Seminars for Business Journalists, visit the Web site or contact Peter Winicov, Senior Associate Director, Wharton Communications at +1-215-746-6471 or communications(at)wharton(dot)upenn(dot)edu.
About the Wharton School
Founded in 1881 as the first collegiate business school, the Wharton School of the University of Pennsylvania is recognized globally for intellectual leadership and ongoing innovation across every major discipline of business education. With a broad global community and one of the most published business school faculties, Wharton creates ongoing economic and social value around the world. The School has 5,000 undergraduate, MBA, executive MBA, and doctoral students; more than 9,000 annual participants in executive education programs; and a powerful alumni network of more than 92,000 graduates.